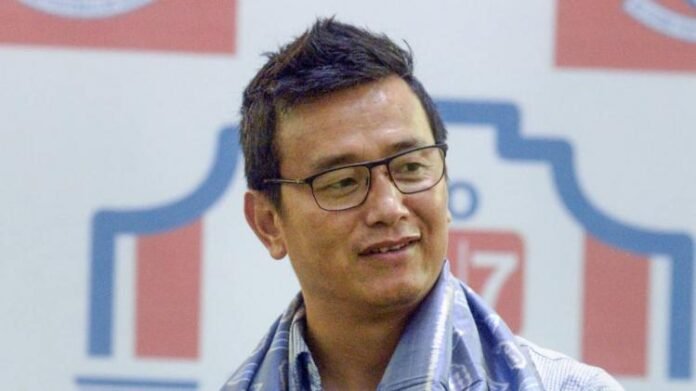 Hamro Sikkim Party (HSP) in a conference held on Sunday demanded the implementation of Inner Line Permit (ILP) system in Sikkim. It is worth noting that the former captain of the Indian football team, Bhaichung Bhutia is the national president of this party. He demanded that the Himalayan state, which shares borders with several countries, be brought under the Inner Line Permit (ILP) system. He said that Article 371 (f) of the Constitution will be protected only if the ILP is implemented. This act protects the rights of the indigenous people of Sikkim.
Bhaichung Bhutia said that his party would request the state and central governments to implement ILP in this state of Northeast India. He also informed that a conference was organized on the issue. Representatives of various social and tribal organizations were invited to the conference. The former captain of the Indian football team also made a big announcement during this time. He said the HSP would undertake a yatra across the state to spread awareness about the Inner Line Permit. Bhaichung Bhutia further said that we will continue to fight for ILP till it is accepted in Sikkim.
Bhutia expressed concern over the threat to the demographic balance in Sikkim with a large number of outsiders residing in the state and availing various social benefits on fake documents during this period. He said, a large number of people are living from outside in Sikkim and they have voter ID card and ration card on the basis of fake identity proof and Aadhar card. These people harm the rights of the people of Sikkim.
At the same time, other speakers in their address during this conference said that ILP is necessary for this northeastern state. Because Sikkim shares borders with China, Nepal and Bhutan. There are security reasons here for this reason. Not only this, the speakers also pointed out that the influx of outsiders in large numbers is creating unemployment for the local people. He demanded that the Sikkim government should pass a resolution to implement the ILP and send it to the Center as an official demand of the state.
Inner Line Permit is required to go to places like Ladakh, Arunachal Pradesh, Nagaland, Meghalaya, Lakshadweep. This permit is an official document that allows any Indian citizen to visit these particular places for a certain period of time.
However, getting this permit is not very difficult. Every state has its own fee which has to be paid along with the bus identity card. By the way, a permit has to be taken to go to Lakshadweep, but for this no fee has to be paid. On the other hand, if you go to Ladakh, then 30 rupees have to be paid for every person. But if you go to Manipur, Nagaland or Arunachal Pradesh, you have to pay a fee of at least 100 rupees.