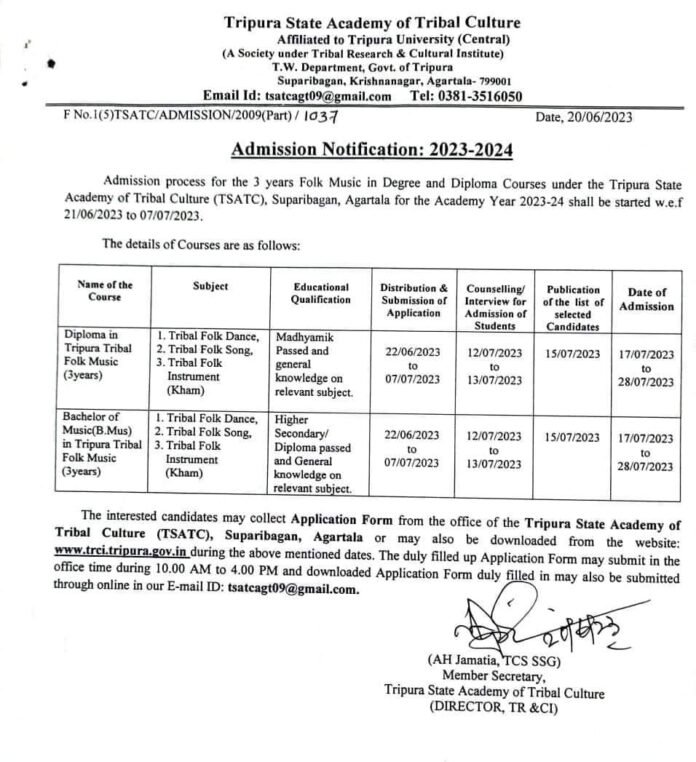 Agartala, June 22, 2023 – The Tripura State Academy of Tribal Culture, located in Suparibagan, Agartala, has officially announced admission notifications for the academic year 2023-2024. The academy offers a diverse range of degree and diploma courses aimed at preserving and promoting the rich tribal heritage and culture of the state.
The degree courses available for the upcoming academic session include Bachelor of Arts (B.A.) in Tribal Studies, Bachelor of Fine Arts (BFA) in Tribal Art, and Bachelor of Performing Arts (BPA) in Tribal Music and Dance. These courses are designed to provide students with comprehensive knowledge and understanding of tribal traditions, arts, and customs.
In addition to the degree programs, the academy is also offering diploma courses for students seeking specialized training in tribal culture. The diploma courses include Diploma in Tribal Art and Craft, Diploma in Tribal Music, and Diploma in Tribal Dance. These programs aim to equip students with the practical skills and techniques required to excel in various tribal art forms.
Prospective candidates interested in seeking admission to these courses can obtain the application forms from the academy's official website or visit the campus in person. The academy follows a merit-based selection process, considering academic performance and relevant entrance examinations. The last date for submitting the completed application forms is July 15, 2023.
The Tripura State Academy of Tribal Culture is renowned for its dedicated faculty and state-of-the-art facilities, providing students with an immersive learning experience. The academy aims to foster cultural awareness, creativity, and talent among the students while preserving and celebrating the tribal heritage of Tripura.
Aspiring students from diverse backgrounds are encouraged to seize this opportunity to enroll in these degree and diploma courses and contribute to the preservation and propagation of the rich tribal culture of Tripura.
For further information and queries, interested candidates can visit the academy's website or contact the administrative office directly.
Contact details: Tripura State Academy of Tribal Culture Suparibagan, Agartala Website: www.tribalacademy.tripura.gov.in