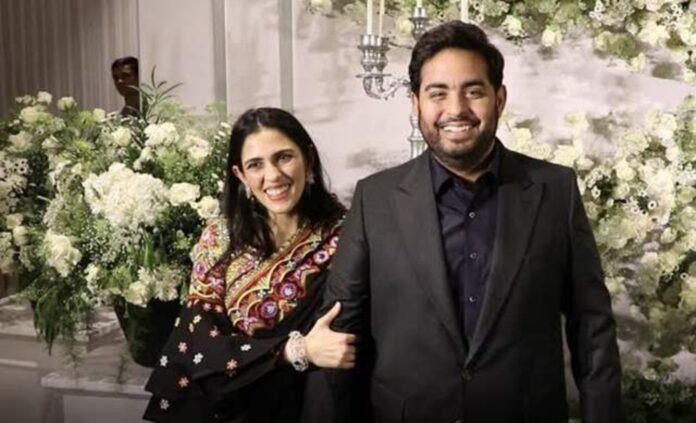 In a joyous moment for the Ambani family, Akash Ambani, son of business tycoon Mukesh Ambani, and his wife Shloka Mehta have welcomed their second child. The news of the new addition to the Ambani family has brought immense happiness and excitement among their relatives, friends, and well-wishers. Akash and Shloka, who tied the knot in a grand wedding ceremony in March 2019, had previously become parents to a baby boy. Let us delve into the details of this heartwarming announcement and share the joy of the Ambani family.
The latest addition to the Ambani family arrived amidst much anticipation and love. Akash Ambani and Shloka Mehta, who have been an integral part of high-profile social events, have now become proud parents for the second time. The couple's first child, a son, was born in December 2020, and the arrival of their second child has doubled their happiness.
Akash Ambani, the eldest son of India's richest person, Mukesh Ambani, and his wife Shloka, the daughter of diamond magnate Russell Mehta, have always managed to capture public attention. They are known for their graceful presence and philanthropic initiatives, making them prominent figures in India's social and business circles.
The Ambani family, renowned for their business empire and lavish lifestyle, has been showered with congratulations and warm wishes from various quarters. The news of the new baby has also brought immense joy to the proud grandparents, Mukesh and Nita Ambani, who have often expressed their love and affection for their grandchildren.
The Ambanis are known for their close-knit family bonds, and the arrival of a new member further strengthens those ties. The baby's birth is celebrated as a momentous occasion, with family and close friends visiting to convey their blessings and share in the joyous atmosphere.
Akash and Shloka, who are actively involved in philanthropic initiatives through the Reliance Foundation, have demonstrated their commitment to making a positive impact on society. With their growing family, their philanthropic endeavors are expected to take on even greater significance, emphasizing their dedication to creating a better world for future generations.
The birth of Akash Ambani and Shloka Mehta's second child has filled the Ambani household with immense joy and happiness. The couple's commitment to family values, combined with their influential presence in India's social and business spheres, has made the news of their expanding family a matter of public interest and celebration.
As Akash and Shloka embark on this new chapter of their lives, their love, support, and dedication to each other and their children will undoubtedly continue to inspire others. We extend our heartfelt congratulations to the Ambani family and wish them abundant blessings, love, and happiness on this joyous occasion.