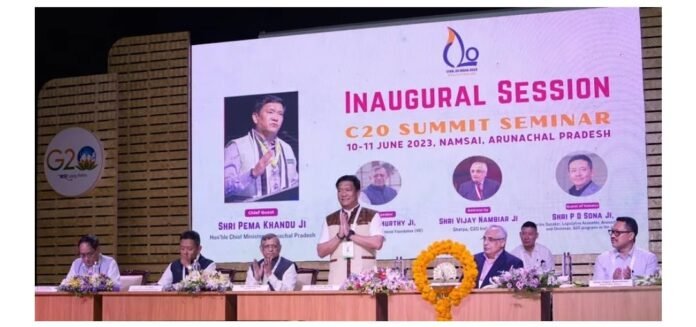 The scenic state of Arunachal Pradesh set the stage for an international gathering as the two-day Civil 20 (C20) Summit commenced today in the charming town of Namsai. Drawing participation from more than 150 delegates representing 20 countries, the event promises to foster fruitful discussions on pressing global issues. With its picturesque landscapes and warm hospitality, Arunachal Pradesh provides an ideal backdrop for this momentous occasion.
Diverse Perspectives Converge: The C20 Summit serves as a platform for leaders, policymakers, and activists to exchange ideas and collaborate on crucial matters affecting the world today. As delegates from different corners of the globe gather in Itanagar, a tapestry of perspectives unfolds, enriching the discourse and strengthening international bonds. This dynamic convergence of minds presents an opportunity for fruitful partnerships and innovative solutions.
Addressing Global Challenges: The summit's agenda encompasses a wide range of topics, addressing key global challenges that demand urgent attention. From climate change and sustainable development to human rights and economic inequality, the C20 Summit seeks to generate actionable recommendations to present to the G20 leadership. Through robust discussions and thought-provoking sessions, the delegates aim to shape policies that can drive positive change on a global scale.
Promoting Regional Cooperation: Arunachal Pradesh's role as the host state highlights India's commitment to regional cooperation and inclusive dialogue. By welcoming delegates from 20 countries, the nation reaffirms its dedication to fostering strong diplomatic ties and collaborative efforts in addressing shared challenges. The C20 Summit not only showcases Arunachal Pradesh's natural beauty but also its commitment to being a regional hub for global cooperation.
Local Engagement and Impact: The C20 Summit provides an excellent opportunity for local engagement and empowerment. Arunachal Pradesh's vibrant culture, rich heritage, and traditional knowledge offer invaluable insights to the international delegates. Interaction with local communities and exposure to indigenous practices contribute to a more holistic understanding of the challenges at hand. Furthermore, the summit's proceedings are anticipated to generate positive economic and social impacts for the region, leaving a lasting legacy beyond its conclusion.
Looking Ahead: As the C20 Summit enters its second day, the discussions and collaborations are expected to intensify. The delegates will work towards formulating comprehensive recommendations that address global issues and ensure inclusive development. The event's success will be measured not only by the outcomes achieved but also by the lasting connections forged between participants from different corners of the world.
The inaugural C20 Summit in Itanagar, Arunachal Pradesh, signifies a significant milestone in global cooperation. By hosting this international gathering, the state not only showcases its natural beauty but also amplifies its voice on the global stage. As the summit progresses, it is hoped that the outcomes and deliberations will contribute to a more sustainable, equitable, and inclusive world.