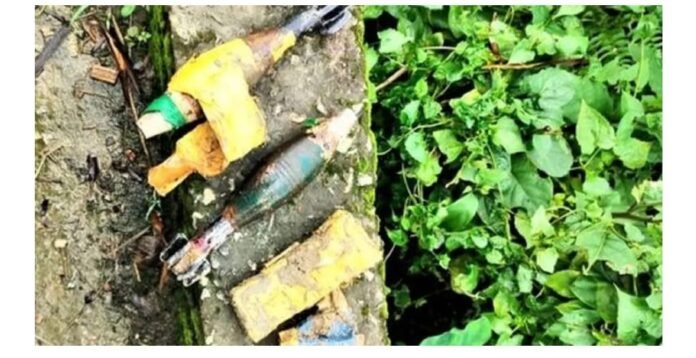 DIBRUGARH: In a startling discovery, three mortar shells were unearthed during construction work in the Piyong circle area of Arunachal Pradesh's Namsai district. The incident has sparked concerns over potential historical remnants and highlights the importance of vigilance during development projects.
The unexpected find occurred as workers were engaged in construction activities, emphasizing the need for caution in areas with a history of conflict. Local authorities were immediately informed and swiftly responded to the situation, ensuring the safety of the surrounding community.
The discovery of these mortar shells has raised questions about the area's past and potential remnants from previous conflicts. Such findings serve as a reminder of the region's history and the need for continued efforts in ensuring the safety and security of development projects.
Authorities are currently investigating the origin and nature of the shells to determine whether they pose any immediate threat to the community. Specialized personnel trained in handling explosives have been deployed to safely secure the area and assess the situation. The primary objective is to ensure the protection of residents and workers while maintaining a thorough investigation.
The incident highlights the significance of adhering to established safety protocols and guidelines during construction projects. It underscores the importance of comprehensive surveys and risk assessments prior to commencing any development work, especially in areas that may have a complex historical context.
Local authorities have urged residents and workers to remain vigilant and report any suspicious objects or activities promptly. Public cooperation is essential in maintaining a safe and secure environment.
As more information becomes available, it is crucial for the community to stay updated through official sources and local news outlets. Authorities will provide updates on the progress of the investigation and any necessary precautions that need to be taken.
Instances like these serve as a reminder of the need for continuous vigilance and caution during development activities. By prioritizing safety protocols and working in coordination with local authorities, such incidents can be addressed effectively, ensuring the well-being of all stakeholders involved.
As the investigation unfolds, it is important for all concerned parties to collaborate and support the authorities in their efforts to ensure the safety and security of the area. With the collective efforts of the community, incidents like the discovery of mortar shells can be properly addressed and prevented in the future.