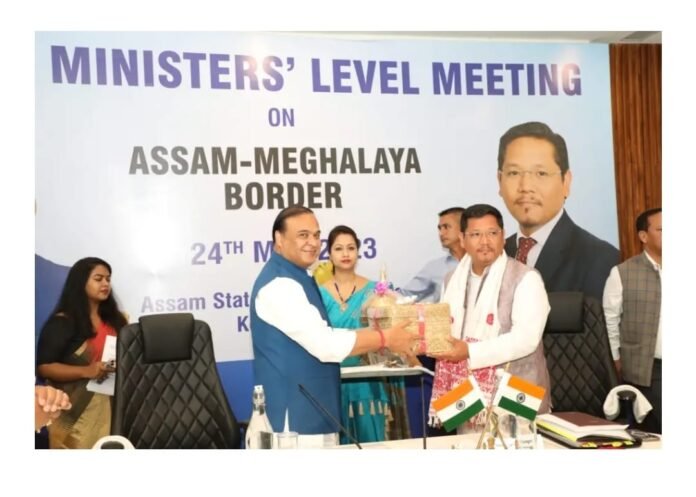 Guwahati: In a significant development aimed at resolving the long-standing border dispute between Assam and Meghalaya, Chief Ministers Himanta Biswa Sarma and Conrad Sangma have announced their upcoming visit to the disputed areas along the border of the two states in June.
The visit, which is expected to foster dialogue and understanding, comes as part of the ongoing efforts to find an amicable solution to the border tensions that have persisted between Assam and Meghalaya for years.
The disputed areas in focus include regions in Karbi Anglong and West Jaintia Hills, where both states have staked their claims. These regions have witnessed sporadic clashes and disagreements over land ownership, resulting in strained relations between the two neighboring states.
The decision to embark on this joint visit underscores the commitment of both Chief Ministers to find a peaceful resolution and strengthen bilateral ties between Assam and Meghalaya. It signifies a significant step towards fostering better understanding, communication, and cooperation.
During their visit, the Chief Ministers will personally assess the ground realities, engage with local communities, and meet with local authorities to gain insights into the border issues from various perspectives. The visit aims to create an environment conducive to constructive dialogue and pave the way for fruitful negotiations.
The involvement of the Chief Ministers in such a hands-on approach highlights the importance both governments attach to resolving the border dispute and maintaining peace and harmony among the affected communities.
The visit is expected to provide an opportunity for open and transparent discussions, enabling the identification of shared interests and potential compromises that can contribute to a lasting resolution. It also serves as a platform for the exchange of ideas and perspectives, fostering trust and mutual understanding between the two states.
The governments of Assam and Meghalaya, in coordination with local administrations and stakeholders, are working towards ensuring a smooth and successful visit. The Chief Ministers' visit will be accompanied by high-level delegations, including officials from various relevant departments, who will contribute their expertise and insights to the discussions.
The people residing in the disputed areas, who have been directly impacted by the border tensions, have expressed hope that the visit of the Chief Ministers will lead to a positive outcome and herald a new era of peaceful coexistence.
As the Chief Ministers of Assam and Meghalaya gear up for their visit in June, expectations are high that their joint efforts will lay the groundwork for a comprehensive resolution to the long-standing border dispute. The willingness of both states to engage in constructive dialogue and explore mutually agreeable solutions signifies a significant step forward in fostering regional stability, harmony, and progress.
Only time will tell whether this visit will pave the way for a breakthrough in the Assam-Meghalaya border dispute, but the commitment and initiative shown by the Chief Ministers have undoubtedly raised hopes for a peaceful and mutually beneficial resolution.