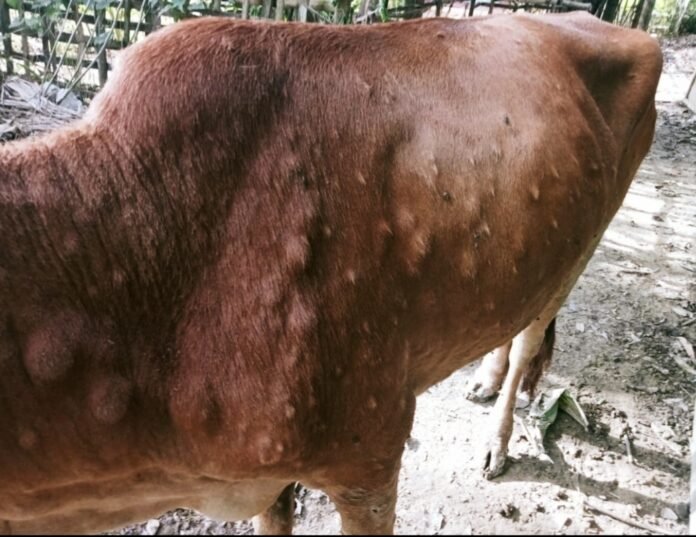 Guwahati: The Kamdhenu is no more. She died of lumpy skin disease last Monday in the scarcity of proper treatment. Her calf is being cared for by her owners. 
A large number of cows have been affected by lumpy skin disease in different areas of Tinsukia district's Digboi assembly constituency over the past two weeks.
Heera Tanti, 86, the owner of the cow, namely Kamdhenu told BOROK TIMES,  " The nearest Veterinary Dispensary is very far away from here . We were unable to take the cow to the Vet . We did some Ayurvedic and traditional treatment to her but of no use ." 
Heera is the permanent resident of Duamara Tea Estate in Tinsukia district of upper Assam. The area is known for animal husbandry as most of the people there are farmers and earn some extra money through taming the animals like cows , pigs , ducks , hens and goats .
The disease in animals outbreaks time to time but the Veterinary doctors never visit village to village and provide medicines, people in Doomdooma Subdivision alleged.
" There were seven cows . Three of them died , one of them today. Kamdhenu had recently given birth to this female calf – Gouri .Now she is gone . We are feeding her with bottle milk and fearing the disease not catch her , making her sleep in our bedroom. " Heera added .
Tinsukia is 500 kilometers from the capital Guwahati and Duamara is 47 kilometers from Tinsukia.
Reports of Lumpy virus disease also coming from Phillobari, Sadia and Dirak villages.
Sources in the veterinary department said that the vector-borne disease has affected cattle in many areas, including tea gardens, in the district in the last two weeks. Deaths of several cows have also been reported from different places, the sources said.
Farmers, whose cows have been infected by the disease, said cows, after being infected by lumpy skin disease, develop swollenness in their bodies and nodules start appearing on their skin. The animals do not eat properly and remain mostly in an unenergetic state. The viral disease has killed many cows over the past two weeks, the farmers claimed.
They said the emergence of the fatal disease has triggered panic among farmers of the district as many farmers earn their livelihood only through their cattle. The disease is spreading rapidly and the authorities concerned must take prompt measures for a solution, they said. They appealed to the Tinsukia district administration to conduct free medical camps for cattle in Duamara , Phillobari and Sadia so that farmers can take their cows to the camp and get them diagnosed , treated.
They claimed that nearly 1000 cows have been infected and 40-50 cows killed by the disease in the district in the past 15 days.
According to state veterinary officials, lumpy skin disease resurfaced in Assam in April this year and the disease has affected nearly 40,000 cows in at least seven districts till now.