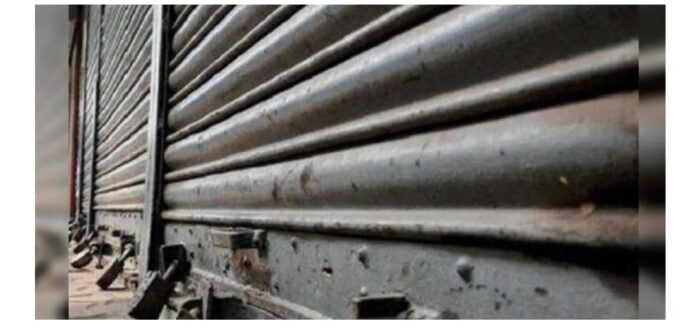 SILCHAR: A 12-hour bandh has been called in the three districts of Barak Valley in Assam as a mark of protest against the recently proposed draft delimitation plan. The opposition to the proposal has led to widespread agitation and disruptions across the region.
The call for the bandh, aimed at voicing dissent against the delimitation proposal, has been supported by various political and social groups in the Barak Valley. The proposal, which involves the reconfiguration of electoral boundaries, has generated significant concern and opposition among the local population.
Barak Valley, comprising the districts of Cachar, Karimganj, and Hailakandi, has traditionally been a politically active region. The residents' apprehensions regarding the draft delimitation plan have ignited tensions and prompted the organizing of the 12-hour shutdown.
During the bandh, normal life in Barak Valley came to a standstill, with shops, markets, and educational institutions remaining closed. Public transport services were also severely affected as protesters took to the streets, raising slogans against the proposed delimitation.
The opposition groups argue that the draft delimitation proposal does not adequately address the unique socio-political dynamics and demographics of the Barak Valley. They believe that the suggested changes in electoral boundaries might undermine the representation and interests of the local population.
Local political leaders and activists have actively participated in the bandh, organizing rallies and sit-ins to express their opposition to the draft proposal. They are urging the concerned authorities to reconsider the delimitation plan and ensure that the voices and concerns of the people of Barak Valley are duly taken into account.
Security measures have been heightened in the region to maintain law and order during the bandh. Police personnel have been deployed in significant numbers to prevent any untoward incidents and ensure the safety of citizens.
The 12-hour shutdown has inconvenienced the residents of Barak Valley, but the opposition groups argue that it is a necessary step to draw attention to their grievances. They are determined to continue their protests until their concerns are adequately addressed.
The ball is now in the court of the authorities responsible for the delimitation process. It remains to be seen how they respond to the widespread opposition and whether they will take steps to engage with the stakeholders from Barak Valley to address their apprehensions.
As the bandh continues, the people of Barak Valley are keeping a close watch on the developments and hoping for a constructive dialogue that will take their concerns into consideration.