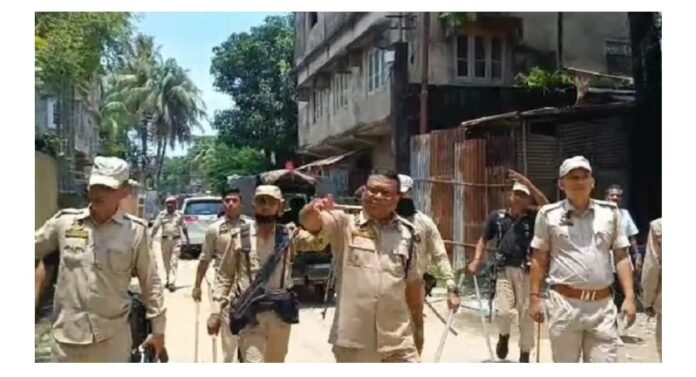 Silchar, Assam: Prohibitory orders under Section 144 of the Criminal Procedure Code (CrPC) have been implemented in the College Road area of Silchar town, Assam, in response to a recent group clash that took place in the vicinity. The imposition of Section 144 aims to maintain law and order and ensure the safety of the residents.
The decision to impose Section 144 was made by the local administration after a clash erupted between two groups in Silchar's College Road area, leading to a tense situation. Section 144 of the CrPC empowers the authorities to prohibit the gathering of four or more people in a specific area and restricts the movement of individuals during a given period.
The clash, which occurred on [Date], reportedly involved members from different groups and resulted in disturbances, including incidents of violence and damage to property. In order to prevent any further escalation of tensions and potential law and order issues, the administration deemed it necessary to impose Section 144.
Under the current restrictions, residents and visitors in the College Road area are advised to adhere to the prohibitory orders and cooperate with the authorities to ensure a peaceful environment. The imposed Section 144 prohibits the assembly of more than four individuals, holding public gatherings, and carrying any weapon or object that could potentially be used for violence. Violations of these orders may lead to legal consequences.
The local administration and law enforcement agencies are working in close coordination to monitor the situation and maintain peace in the area. Additional security personnel have been deployed to ensure the safety of the residents and to promptly respond to any untoward incidents.
The authorities have urged the public to remain calm and not to spread or believe in any rumors that may escalate tensions. They have also appealed to community leaders and influential individuals to assist in defusing the situation and promote harmony among different groups.
The imposition of Section 144 is a precautionary measure to restore normalcy and prevent any further disturbances in Silchar's College Road area. The local administration will continue to assess the situation closely and take necessary actions to ensure the safety and security of all residents.
Residents and visitors are advised to stay updated with the latest information through official channels and follow the instructions provided by the authorities until the situation stabilizes.