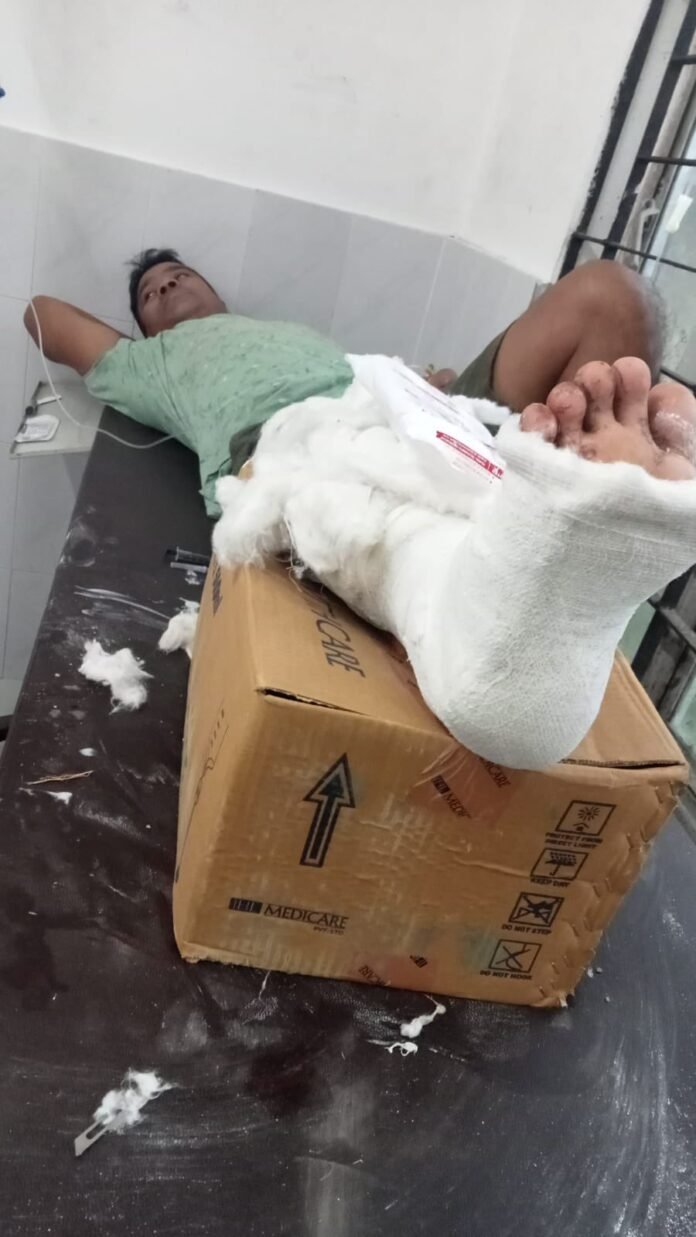 Guwahati: The people across the state have reacted over extortion demands from businessmen in upper Assam after two were arrested on Saturday. 
Two Ulfa(I) linkman was apprehended in a joint operation near Dibrugarh University in eastern Assam Dibrugarh on Saturday.
" Replying to at gpsinghps Some people from so-called Unions must be also given proper lessons as to using Dadagiri to disrupt business activities. Their jealousy and Nikmmagiri must be also dealt with so that they don't create hindrances to the economic growth of Assam. " Amit Nanda ( Nanda Ambarish ) a Twitter user wrote to the DGP of Assam. 
Angshuman, another Twitter user, wrote,  " Replying to @ gpsinghips Not only banned organizations but active " Jatiyo " organizations are still collecting money silently, without making demands or using violence like before. Small shopkeepers and rickshaw Wallas to pay them or fall victim to systematic violence & media trials. " 
The business establishments of upper Assam too have been constantly appealing to the government to provide a peaceful and fear-free environment to work here.
Upper Assam is regarded as the main commercial hub of the state, especially Tinsukia, Dibrugarh, Sivasagar, Golaghat, and Jorhat. 
The linkman were identified as Pushpanjali Gogoi and Hema Chetia.
Pushpanjali Gogoi hails from Dihing village in the Laipuli area of Tinsukia while Hema Chetia hails from Khowang.
"During a joint operation, Rs 3 lakh was seized from Pushpanjali Gogoi while Rs 164000 was seized from Hema Chetia," said a police official.
Talking to media persons, Dibrugarh Superintendent of Police Shwetank Mishra said, "We have received a tip-off regarding extortion money which was extorted from businessmen. A joint team of police, Army, and CRPF conducted an operation near the Dibrugarh University area and successfully apprehended a woman Ulfa(I) Linkman identified and a person, who was a former Ulfa(I) cadre,".
"We have seized Rs 3 lakh extortion money from the possession of Pushpanjali Gogoi. We have also seized Rs 164000 from the possession of Hema Chetia. We have started our investigation. The cash which was seized was extorted from businessmen," the SP said.
Mishra said, "During interrogation, Hema Chetia revealed that more extortion money was kept in his house. A joint team went to his house to seize the extortion money at Tinthengia gaon and an altercation took place he tried to attack the policemen with a grenade-type thing, but to disarm him, the police team fired in his leg. He was admitted at AMCH and out of danger,".
The SP said, "We have received a bottle grenade and Rs 10000 from his residence. During, interrogation, Hema Chetia revealed that he was a former Ulfa cadre,".
"Hema Chetia is basically a Ulfa(I) linkman and collected extortion money from businessmen and transport it to other linkmen," he said.
The SP further said, "Our investigation has been going on and more arrests will likely take place,".
Recently, the Ulfa (Independent) sent an extortion letter to a tea garden located in the Sonari area of Charaideo district seeking Rs 72 lakh for the militant organization's fund.
Police said that the extortion letter, signed by Ulfa (I) leader Nayan Asom was sent to Manoj Gogoi, the manager of the Timon tea estate in Charaideo via WhatsApp.
The extortion letter sought an amount of Rs 72 lakh for the organizational fund. No one related to the incident has been apprehended by the police till now and further investigation into the matter is on.
"Extortion letters are coming from Ulfa(I) but most of the times the victim didn't report to the police. Ulfa(I) has been running their organization with extortion money. Now, they have used many techniques to extort money from businessmen," said a source.
"In the recent past extortion demands have been received by some business persons in Upper Assam in the name of banned organization ULFA [irrespective of genuine or fake]. Police have apprehended some persons while collecting such money. One of them has been injured today in shoot out while trying to flee by attacking police personnel," DGP GP Singh tweeted.
In another tweet, "It may please be informed that collection of money in the name of ULFA [irrespective of genuine or fake] attracts the provision of Sections 17, 21, 24, 26, 39 & 40 of the UAP Act since ULFA is a banned terrorist organization. These provisions are for the collection of funds, using proceeds of terrorism, etc, and may lead to forfeiture of property of the persons involved in the collection of funds for ULFA [irrespective of claims of genuine or fake] Concerned District Police and Security forces have been directed to take firm action against any person involved in making extortion demands and/or collection of such demanded money,".
"Assam Police would not let the economic development of the state be held hostage by such persons and take ruthless action per law. People are advised not to be part of such collection of extortion or demanded money," he said.