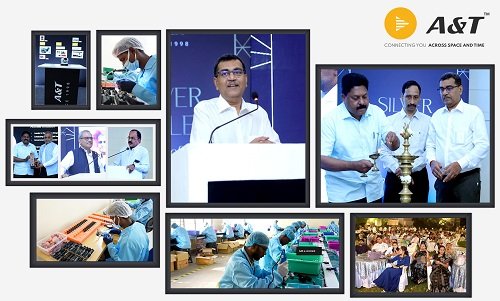 Broadening its horizon, it aims to develop AI-based solutions to augment the value of its offerings, and emerge as a leading player in the premium segment of the market.
Set to expand its manufacturing base to cater to the markets in SAARC, the Middle East, and African regions.
A&T Video Networks, a pioneer in India's video collaboration technologies, aims to double its share in the domestic market from 3% to 6% by 2024, building on its success of 25 years of excellence, and leveraging its newly-established manufacturing base and the post-COVID momentum, especially in the healthcare, education, enterprises, and government verticals.
A&T Video Networks Crosses Silver Jubilee Milestone; Eyes to Double Its Market Share by 2024
Having crossed the silver jubilee milestone in April 2023, the company is also investing in developing AI-based solutions to enhance the value of its offerings, and to fortify its position in the premium segment of the market. Besides, A&T is scaling up its manufacturing capacity to better address the demand for video collaboration products in overseas markets, especially SAARC, the Middle East and Africa.
Founded in 1998, A&T Video Networks manufactures and distributes video collaboration products; offers end-to-end video collaboration solutions, and offers Video-as-a-Service (VaaS). The company's partnerships with global majors enables it to introduce most advanced technologies to its customers in India.
As part of its Make-in-India roadmap, the company entered into manufacturing, setting up its factory in 2019 at Arasanoor, a tier III town in Sivaganga District, South Tamil Nadu. At this facility, A&T manufacture web cameras, PTZ cameras, speakerphones, video soundbars and microphones. In the near future, the company wants to manufacture flat panel displays and video collaboration accessories. It also has a technical tie-up with Ubicast, France to host, configure, and offer VaaS solutions.
Commenting about the 25-year long track record in the market, Mr Ashwin Desai,Managing Director, said, "It gives immense satisfaction that we could achieve numerous milestones in the industry, since our inception, from a tier-II city like Madurai. To mention a few, we established Indias first virtual ICU video communication system at a hospital in 2008; the first telemedicine system for the Indian Railways and a corporate hospital in 2003; the first lecture capture system for Indian Institute of Science in 2009. We have been introducing advanced video collaboration technologies from across the world to India since 1999. We are probably the only company to work with engineers from rural India to create a talent pool in electronics manufacturing and video conferencing systems. Our vision is to create our own technologies and localise global technologies to make them meet the unique requirements of Indian customers, while proving our mettle in the global markets such as the Middle East, SAARC and Africa that have demands with similar characteristics."
On the future targets, Mr Ashwin Desai, said, "The market is growing fast. Organisations have realised that going digital is the way to move forward. COVID-19 has definitely accelerated the pace. The room for growth is huge, as hardly 5% of the healthcare and educational institutions, two of the key market segments, have adopted video collaboration so far. In the enterprises segment, only large corporates are fast adopting this technology, SMEs have just started to invest. We hope to increase our market share from about 3% now to 6% by 2024 when the market size of the industry would be around Rs. 800 crores."
A&T Video Networks is expected to register a turnover of Rs. 50 crore by March, 2025. Currently, its turnover is around Rs. 20 crore. The company has over 2000 corporate customers, and a dynamic network of over 400 distribution partners. It is also exploring various strategic funding options to raise funds for the expansion of manufacturing facilities. Export is a major thrust area for A&T. It has appointed distributors in Dubai for the Middle East market, and in Kenya to tap the East African markets.
A&T accords high priority to ethical business. It is one among the 1500-odd business organisations in the country that follow the tenets of CII's Model Code of Conduct for Business Ethics. As an environment conscious company, A&T is getting into recycling e-waste as part of its Extended Producer Responsibility.
Talking about the Indian video collaboration industry, Mr Ashwin Desai said that a significant disadvantage for electronics manufacturing is that it has to rely on imports. "Currently, critical components such as chipsets, sensors, lenses, and electronic controls are sourced from abroad, especially China. The industry needs to reduce its dependence on Chinese imports and establish risk diversification strategies. The government is striving hard to set up a semiconductor manufacturing base in India. It is a step in the right direction. The government should also ensure that the Production Linked Incentive (PLI) scheme benefits not only large companies but also smaller ones."
For more details, please visit www.atnetindia.net.
About A&T Video Networks
Founded in 1999, A&T Video Networks is a pioneer in video collaboration solutions in India. It has exclusive focus on the AV space. With its manufacturing plant in Madurai, Tamil Nadu, the company has been spearheading Make in India movement in the AV sector in the product categories of: web cameras, PTZ cameras, speakerphones, video soundbars, and microphones. Its professional grade AV products come with advanced AI-driven speaker/audio tracking and auto framing features.
A&T Video Networks is also the national distributor of AV products and solutions for many leading global brands and has a pan-India network of service engineers. The company is a deemed OEM for high-end brands like AVer, Taiwan and Ncast, USA. It has a technical tie-up with Ubicast, France to host, configure and manage its Nudgis Video SaaS platform in India.
​