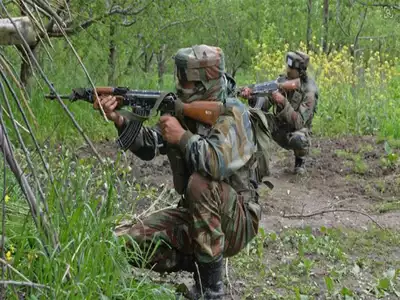 Amid a few days left for India's 75th year of Independence, on Tuesday, August 09, one of the oldest paramilitary forces of India, Assam Rifles suffered an attack by suspected members of the banned outfits NSCN(K) and ULFA(I).
The banned outfits on Tuesday morning around 3:30-4 am launched an attack on the newly built camp of the Assam Rifles situated at Pangsau Pass in Arunachal Pradesh's Changlang district, along the Indo-Myanmar border. The attack is suspected to be a joint action of the ULFA(I) and the NSCN(K). The paramilitary force was attacked by the banned groups with heavy weapons. According to sources, the 19 Assam rifles were attacked by the ULFA(I) and the NSCN(K) 100 meters away from the Rifles' camp, and 4 rounds of bullets were fired upon them and in retaliation, the Assam Rifles fired back on the groups, resulting in a gunfight between the Rifles and the ULFA(I) & NSCN(K). No casualties according to the force have occurred, except a soldier getting mildly injured. Mihin Gambo, the SP of district Changlang confirmed the incident to the media this morning. Gambo stated that. "It is immediately not known which insurgent groups were involved in the attack.". The, ULFA(I) and NSCN(K), however, has not yet claimed any responsibility for the incident.
Notably, in recent times, massive operations against insurgent groups in Tirap, Longding, and Changlang regions were carried out by the Assam Rifles and several cadres of the NSCN(K) were nabbed successfully by the paramilitary force.
Earlier on the 6th of August, the ULFA(I) and the NSCN(K) called for an 18-hour shut-down in 5 states of the Northeast on the 15th of August. The ULFA(I) and the NSCN(K) asked the Northeastern states of Assam, Manipur, Tripura, Meghalaya, and, Nagaland not to take any part in the celebration of India's Azaadi Ka Amrit Mahotsav at any level. The banned outfits called for a shutdown from 12 am to 6 pm on the day of Independence and now the said incident of Tuesday morning is a serious matter at a time when the entire nation is eagerly looking forward to celebrating its Azaadi Ka Amrit Mahotsav and it needs to be taken very seriously by the higher authorities to ensure safety in the said states of Northeast.