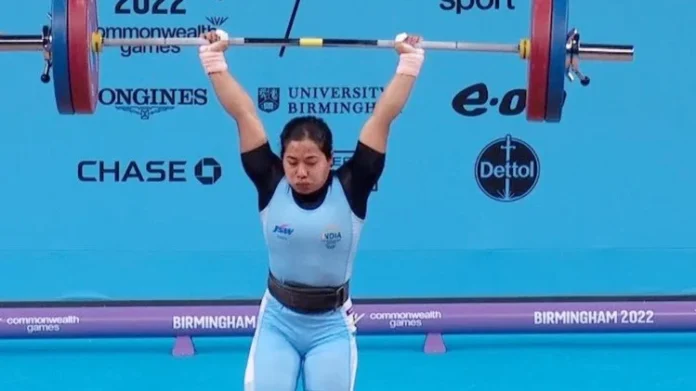 Bindiya Rani Devi, the daughter of Manipur, who made India proud in the recent Commonwealth Games 2022, today reached the Guwahati airport and thereafter left for her native home in Imphal from there. Bindiya Rani Devi who is an employee of the Northeast Frontier Railway got warmly welcomed by her fellow colleagues of NF Railway at the Guwahati airport. Bindiya Rani, notably, in the XXII Commonwealth Games, successfully managed to secure silver in the 55kg women's weightlifting and became the fourth person from India to secure a position in the Commonwealth this year and made Manipur and entire Northeast India proud in the land of Birmingham.
Bindiya Rani's success is the next major feat in Northeast India's recent success in the world of international sports. Earlier last year, Mira Bai Chanu and Lovlina Borgohain who respectively held from Manipur and Assam made the Northeast shine in the 2020 Tokyo Olympics by bagging a gold and a bronze in weightlifting and boxing respectively. Mira Bai Chanu, adding to her success in the Olympics managed to bag a gold medal in the Commonwealth Games 2022 as well in the 49kg women's weightlifting. Several other names from the country's northeastern part who made India shine in the Commonwealth this year are Jeremy Lalrinnuga from Mizoram who secured a gold in the 67kg men's weightlifting and Shushila Devi Likmabam from Manipur who secured silver in 48kg women's judo.
Bindiya Rani Devi, today speaking to the reporters present during her welcome in Guwahati airport said that she is a bit sad about the fact that she failed to secure gold by just 1kg less to the Nigerian weightlifter Adijat Olarinoye and said that she will try to give her best the next time. Bindiya Rani also thanked her fellow NF Railway colleagues for the heart-warming welcome she received in Guwahati.