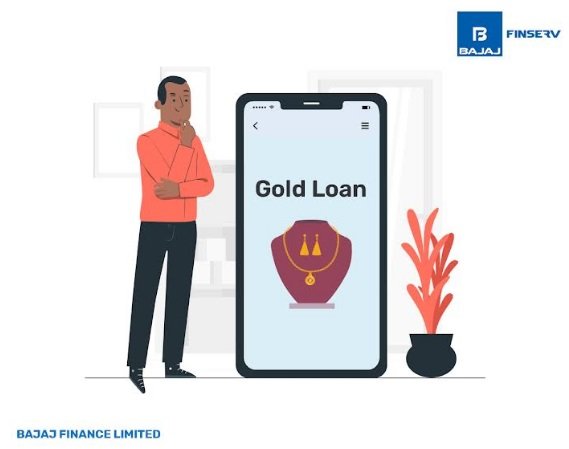 In times of financial emergencies or when immediate funds are required, individuals often find themselves searching for convenient and reliable sources of financing. Bajaj Finance Gold Loan emerges as an ideal solution, providing quick access to funds against the security of gold jewellery. Gold loans help borrowers meet their immediate funding requirements without compromising their overall financial well-being.
Bajaj Finance Gold Loan
Applying for an instant gold loan is much easier compared to traditional lending options. Bajaj Finance offers a quick and easy process, competitive interest rates, and flexible repayment options, making it an attractive choice for those seeking instant funding. Borrowers just need their basic KYC documents and their 18-22-karat gold jewellery to easily get a Bajaj Finance Gold Loan starting from Rs. 5,000 up to Rs. 2 crore.
What makes gold loan a smart choice for quick finance | Bajaj Finserv
Video Url: www.youtube.com/watchv=rMmKNPKG5ns
Let's discover the benefits of selecting a gold loan to meet instant funding requirements.
Low interest rates
One big advantage of a gold loan is the comparatively low Bajaj Finance Gold Loan interest rate. Since borrowers pledge their gold as collateral, the risk for the lender decreases, resulting in lower interest rates. Bajaj Finance Gold Loan interest rates start from just 9.50% per annum, making it an attractive borrowing option. To estimate the interest amount based on their gold jewellery weight or loan amount, borrowers can conveniently utilise the free online Bajaj Finance gold loan calculator.
Convenient repayment options
Bajaj Finance provides customers with multiple repayment options for their gold loan, allowing them to choose the most suitable repayment method. They can opt to pay the full interest amount at the beginning of the loan term and clear the remaining principal at the end. Alternatively, borrowers can make interest payments on a monthly, bimonthly, quarterly, half-yearly, or yearly basis. Furthermore, Bajaj Finance offers a loan amount of up to 75% of the estimated weight of the pledged gold jewellery.
No credit dependency
Another benefit of gold loans is that they do not require a high credit score. Even individuals with a low CIBIL Score or no credit history can avail of a gold loan. This is due to the loan being secured by physical gold jewellery, serving as collateral. To be eligible for the loan, borrowers only need to possess 18-22 karat gold jewellery.
Easy documentation
Gold loans involve minimal paperwork and quick processing. Unlike other loans that involve extensive documentation such as salary history and income proof, gold loans only require basic KYC details. Bajaj Finance follows a simple documentation process where borrowers can submit one of the following KYC documents: Aadhaar Card, voter ID card, passport, or driving licence. Income proof documents are not required.
Convenient application process
The processing of gold loans is quick and hassle-free as they involve minimal documentation and simple eligibility checks. Any Indian citizen between 21 and 70 years can easily apply for a gold loan. Bajaj Finance offers two convenient options for application: borrowers can either visit a nearby branch in person or apply online through a simple process on the Bajaj Finance website.
To apply online, customers just need to:
Go to the Bajaj Finance Gold Loan page.
Open the online application form.
Enter their 10-digit mobile number and get the OTP.
Submit the OTP to verify their details.
Select their state and city to locate their nearest branch.
Enter their full name and date of birth as per their PAN.
Set up an appointment at their nearest branch.
Once the application is submitted, a representative from Bajaj Finance connects with the customer to help them with the process further. With more than 800 branches across India, Bajaj Finance ensures quick and easy loan processing, making the customers have a convenient loan experience.
To apply for a gold loan today, simply visit the Bajaj Finance website.
*Terms and conditions apply.
About Bajaj Finance Limited
Bajaj Finance Ltd. ('BFL', 'Bajaj Finance', or 'the Company'), a subsidiary of Bajaj Finserv Ltd., is a deposit taking Non-Banking Financial Company (NBFC-D) registered with the Reserve Bank of India (RBI) and is classified as an NBFC-Investment and Credit Company (NBFC-ICC). BFL is engaged in the business of lending and acceptance of deposits. It has a diversified lending portfolio across retail, SMEs, and commercial customers with significant presence in both urban and rural India. It accepts public and corporate deposits and offers a variety of financial services products to its customers. BFL, a thirty-five-year-old enterprise, has now become a leading player in the NBFC sector in India and on a consolidated basis, it has a franchise of 66.05 million customers. BFL has the highest domestic credit rating of AAA/Stable for long-term borrowing, A1+ for short-term borrowing, and CRISIL AAA/Stable & [ICRA]AAA(Stable) for its FD program. It has a long-term issuer credit rating of BB+/Positive and a short-term rating of B by S&P Global ratings.
To know more, visit www.bajajfinserv.in.
​