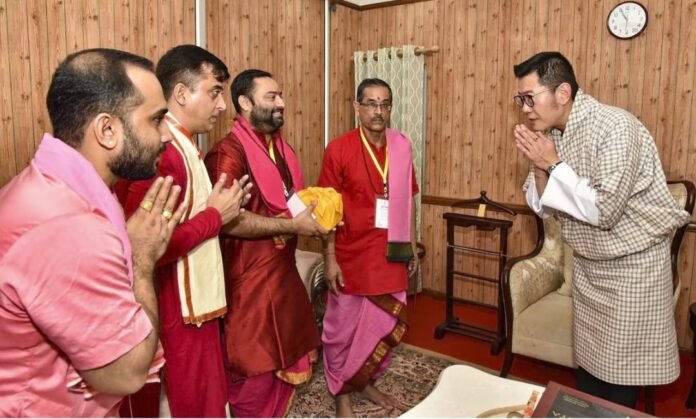 Guwahati: Bhutan's revered monarch, King Jigme Khesar Namgyal Wangchuk, commenced his inaugural three-day sojourn to Assam with a pilgrimage to the renowned Kamakhya Temple situated atop the Nilachal Hills in Guwahati.
Earlier in the day, the 43-year-old King of the neighboring Himalayan nation touched down at the Lokpriya Gopinath International Airport in Guwahati, where he was warmly welcomed by Chief Minister Himanta Biswa Sarma, his Cabinet colleagues, and State government officials.
Mr. Sarma extended a traditional Assamese 'Gamosa' (hand towel) to welcome the King. In return, the royal guest greeted the Chief Minister and his Cabinet colleagues with folded hands.
Following his arrival, the King proceeded to the Kamakhya Temple, where he was received by priests, Assam Tourism Minister Jayanta Malla Baruah, senior State officials, and the Kamrup Metro district administration.
Clad in a customary Buddhist yellow robe, the King offered prayers at the 'garbhagriha' (sanctum sanctorum) and performed a 'parikrama' (circumambulation) around the temple. He also lit earthen lamps in reverence to the Goddess, as mentioned by the temple's Bor-Doloi (head priest) Kabindra Prasad Sarma.
The King expressed his intention to return to the sacred site with his family on a future occasion.
A replica of the Kamakhya Temple was presented to the esteemed visitor by the authorities.
Various cultural troupes representing different communities of Assam gathered outside the airport to welcome the King, who reciprocated their warm reception by waving at them from his vehicle.
Later in the day, he is scheduled to meet the Bhutanese diaspora at a local hotel. The Chief Minister will also pay a visit to the King in the evening.
A cultural program and a dinner will be hosted in his honor by Governor Gulab Chand Kataria.
On Saturday, the King and his entourage will embark on a journey to the Kaziranga National Park, renowned for its population of one-horned rhinoceroses, where they will partake in a safari.
The distinguished visitor will depart for New Delhi on Sunday from Jorhat.
Expressing his delight, the Chief Minister stated, "I am elated to welcome His Majesty Jigme Khesar Namgyal Wangchuk, the King of Bhutan, on behalf of the people of Assam."
"Under the guidance of our Hon'ble Prime Minister, we look forward to the strengthening of the special relationship between our two countries," he posted on 'X', formerly Twitter.
As a token of goodwill, the State Cabinet, on Wednesday, sanctioned the reservation of three MBBS seats for the Royal Government of Bhutan — two seats in the Nalbari Medical College Hospital and one in the Fakhruddin Ali Ahmed Medical College and Hospital.
India and Bhutan share a 649-km-long border, with 267 kilometers of it adjoining Assam.