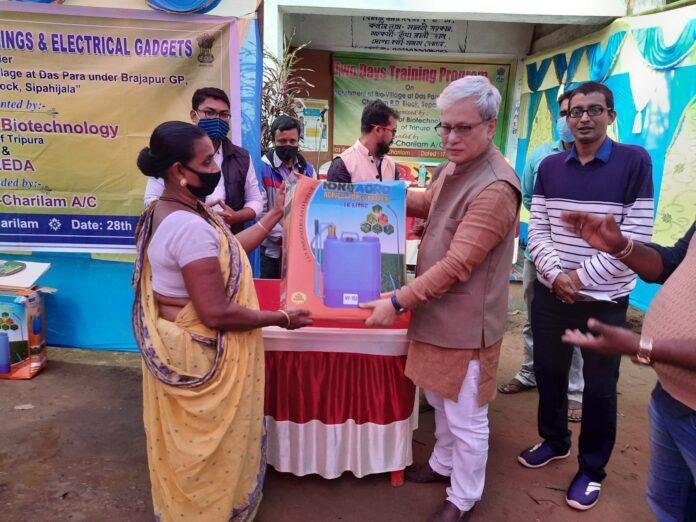 In Tripura government succeed in creating five bio villages given increasing sustainable development, climate change mitigation, and climate adaption as addressed by Deputy Chief Minister Jishnu Dev Varma, who is also the minister in charge of the Science, Technology, and Environment department.
Minister with a Facebook post stated that in Tripura more than 500 households have benefited from this implementation in fie 'Bio Villages' and four more are in the process of development. Two more villages are in the pipeline. Every household is getting the economic benefit of Rs 5,500 per month.
Bio village is the first time implemented in our country, this has so many economic benefits. This concept was first introduced by the Directorate of Biotechnology, Government of Tripura in 2018 to promote organic farming. It provides sustainable livelihood and food security it is a big step taken towards the economic development of our society. This also helps to reduce the impact of climate change which is a big problem in today's world.
This post has received many greetings from many ministers Dev Verma wrote "congratulating the Directorate of Biotechnology under the Science and Technology Department Government of Tripura for designing and for setting up the first Bio Villages in the country. This has been recognized as one of the 'Best Practices from the Indian States' by an international group. These bio villages are an example of sustainable development goals (SDGs) in some of the remotest areas of the state. Taking SDG to the last mile."
This project has been beneficial to the farmers in improving soil nutrients condition and pollution status. It has also reduced the use of fertilizers, fossil fuels, and firewood. Farmers have adopted the new methods of mushroom cultivation, installation, and maintenance of biogas units and bio-composting. It has also helped in the decision-making, marketing, and team-building process.
We hope new methods like this will be introduced to support farmers and reduce climate change and pollution problems.