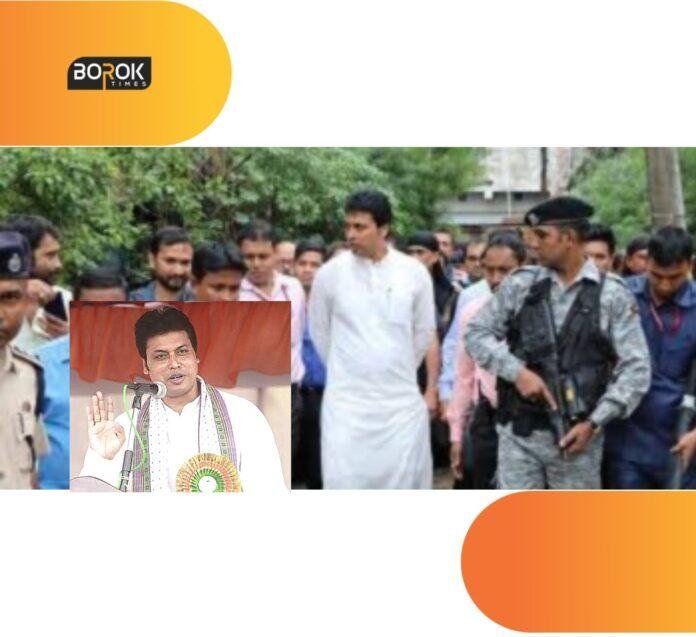 The former Chief Minister Biplab Kumar Deb's Z-security is withdrawn by the BJP High Command.
The security of MLA Deb's Day Plus Security is about to be canceled after criticism from the opposition party. According to the source, MLA Biplab Kumar Deb had been enjoying the day category security even after his resignation from the post of Chief Minister of Tripura. The Chief Electoral Officer of the state has finally ordered the withdrawal of the Z-category security of Biplab Kumar Deb. Even after Biplab Kumar Deb resigned from the post, he had more than 20 bodyguards, including a central CRPF jawan, in his government house and other facilities including five escort cars.
The order has been issued to state police for MLA Biplab Kumar Deb to stop the z-plus category security. Deb resigned on May 14 from the chief minister's post however he continued to enjoy the Z – category security cover for the past 17 days. MLA Biplab Kumar Deb enjoying the protection of days plus security has raise the question of how Biplab Kumar Deb can enjoy these benefits as an MLA within the ruling party itself and in the opposition party.
Congress leader Sudip Roy Barman said that they would write a letter to the chief secretary Kumar Alok for "misuse of public money and would also file a Public Interest Litigation" in the Tripura High Court. Roy Barman said, "The current Chief Minister Manik Saha, Chief Secretary, and Director of Police are aware of the non-essential facilities but still they are granting these violations of the protocol."
A senior police officer said that altogether four cars with 20 security personnel including the first pilot car, tail car, and spare car and its security forces were dropped from the convoy of MLA Biplab Kumar Deb.