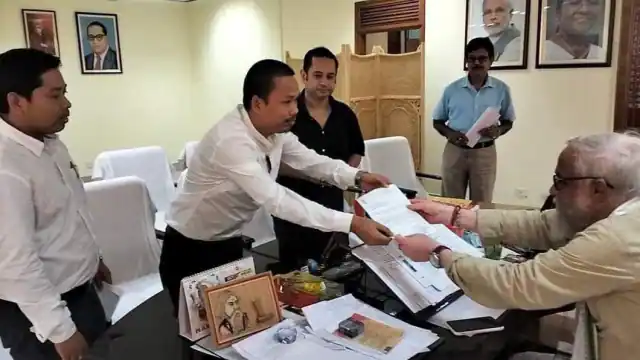 Ahead of the upcoming assembly elections in Tripura, an MLA of a BJP ally has resigned. The name of this MLA is Dhananjay Tripura and he is a member of Indigenous People's Front of Tripura (IPFT).
IPFT is an ally of the ruling BJP in Tripura. Dhananjay submitted his resignation to Assembly Speaker Ratan Chakraborty on Friday. No information has been received about the reason behind Dhananjay's resignation. Within a year, another MLA from the BJP ally has resigned.
Assembly Speaker Ratan Chakraborty told that the MLA of IPFT has resigned today. His resignation has been submitted and sent for gazette notification. On the other hand, Dhananjay Tripra Motha was seen with Pradyot Kishore Debbarm of the party while submitting his resignation to the Speaker. Dhananjay had won the 2018 assembly elections from Ramavelli assembly constituency in Dhalai district.
During the last one year, Dhananjay is the second MLA of IPFT, who has resigned. A year ago, the MLA of the same party, Brishketu Debbarma resigned and joined Tipra Motha. After this, his membership was canceled from the assembly for violating the anti-defection law. At the same time, a month ago, BJP MLA Burbu Mohan Tripura had also resigned. In the 60-member Tripura Legislative Assembly, the BJP won 36 seats while the IPFT won 8 seats in 2018. Resignation of MLAs of IPFT Now it is left with only six members in the assembly.