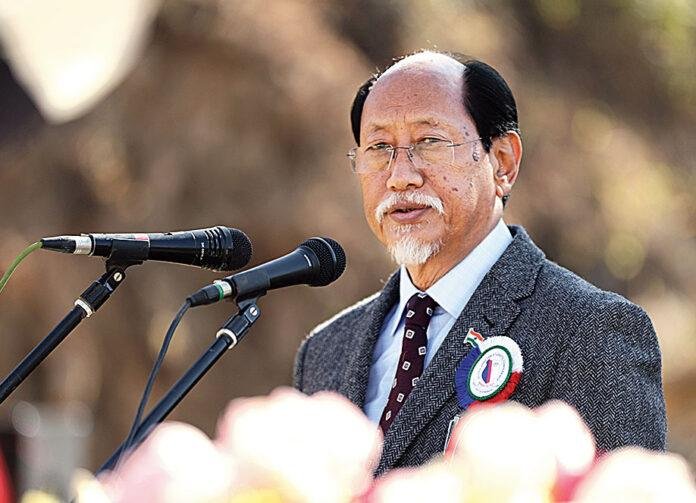 Nagaland Chief Minister Neiphiu Rio was allegedly questioned by the ED for six hours in Dimapur in connection with the withdrawal of government money. However, no information has been shared by the ED yet. At the same time, after the matter came to light, Congress has demanded the dismissal of CM Rio from Nagaland Governor Jagdish Mukhi.
The Enforcement Directorate (ED) questioned Nagaland Chief Minister Neiphiu Rio for six hours at an army camp at Rangpahar near Dimapur, allegedly in connection with the non-existent High Court building in Kohima. The foundation stone of the building was laid in 2007. The state government has so far taken out more than Rs 70 crore for its construction. The Nagaland government reportedly withdrew Rs 44.24 crore for electrification and water supply for the project site and Rs 22.42 crore for the construction of judges' bungalows till 2018. It is alleged that the amount was embezzled between March 2009 and March 2017 through 18 withdrawals by the Justice and Law Department of Nagaland.
The ED officials also reportedly kept Rio's investigation and interrogation a secret for almost three weeks. The ED took the matter into its own hands and started investigating from the financial angle after the CBI filed two chargesheets in the case in a special court in January. Nagaland Congress chief K. Theri and former chief minister KL Chishi said Governor Jagdish Mukhi should immediately take cognizance of the developments and initiate action against Ryo, a BJP ally, if he does not resign. Theri said, "Interrogation of a chief minister in the ED office is a big deal.
Governor Jagdish Mukhi is responsible for sacking the Rio-led state government to ensure smooth functioning of the judiciary and to uphold the commitment made by Prime Minister Modi and his Home Minister Amit Shah of zero tolerance against corruption. Is.' It is reported that the construction work of all the other High Courts of the Northeast including Meghalaya, Tripura and Manipur, which started simultaneously, have all been completed long back and work is going on in those buildings since 2013. The cases are being pursued in a special CBI court under Case No. 6 and 7 of 2021. This is a case of misappropriation of funds.