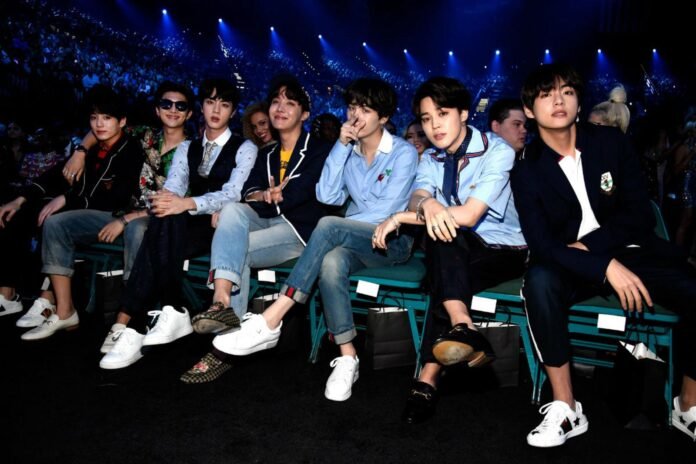 As the global phenomenon BTS marks their remarkable 10th anniversary, the members have taken this momentous occasion to express their gratitude, share intimate memories, and unveil a promising vision for the next chapter of their journey. In a series of heartfelt love letters, unreleased videos, and a heartfelt promise, the beloved South Korean septet has once again captured the hearts of fans worldwide.
With their decade-long presence in the music industry, BTS has transcended boundaries, connecting with millions of fans around the world through their music, messages of self-empowerment, and genuine camaraderie. On this special milestone, each member of the group has penned emotional letters, expressing their deepest appreciation for the unwavering support and love they have received throughout their incredible journey.
Accompanying these personal letters, BTS surprised their dedicated fanbase with a collection of previously unseen videos, offering a glimpse into their lives behind the scenes. These cherished moments showcase the camaraderie, laughter, and shared experiences that have solidified the bond between the members, as well as their unbreakable connection with ARMY—the devoted fandom that has been instrumental in their success.
Beyond reflection and reminiscence, BTS has also offered a glimpse of the future, promising an exciting new chapter to come. The group shared their collective vision, expressing their commitment to continue evolving as artists, pushing boundaries, and creating music that resonates with people's hearts. Their promise encapsulates a determination to embark on new artistic ventures, explore different genres, and further connect with their global audience.
The BTS phenomenon, commonly referred to as the "Korean Wave" or "Hallyu," has had a profound impact on the music industry, transcending cultural and linguistic barriers. The group's authenticity, infectious energy, and socially conscious messages have served as a beacon of hope and inspiration for countless individuals worldwide.
As BTS celebrates their 10th anniversary, fans eagerly anticipate what lies ahead for this remarkable group. The love and support they have received over the years serve as a testament to the power of music and the deep connection between artists and their fans.
In the spirit of gratitude, BTS extends their heartfelt thanks to ARMY for their unwavering dedication, promising to continue their musical journey with renewed passion and dedication. Together, BTS and ARMY look forward to the future, anticipating exciting new music, unforgettable performances, and a continued bond that transcends borders and language, uniting people from all walks of life under the banner of music and love.