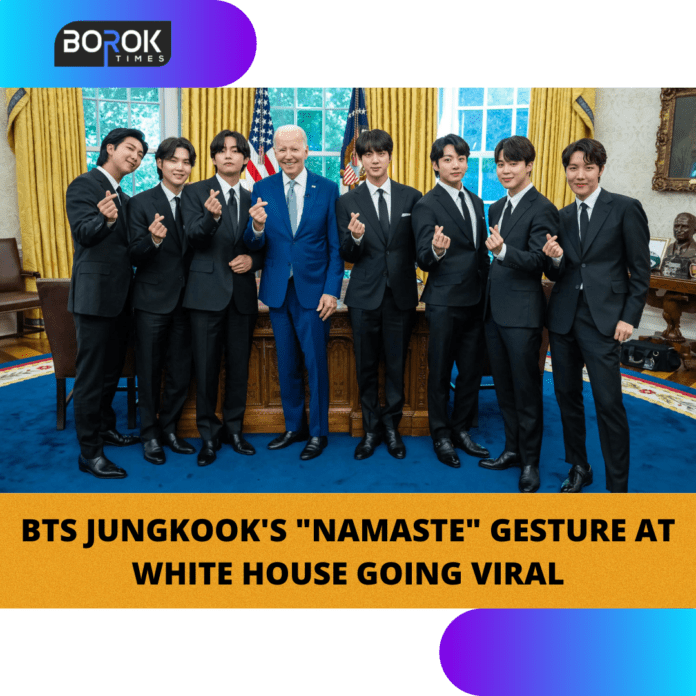 BTS member Jungkook became the hot topic of discussion among Indian fans as he pulled off a namaste at the White House.
BTS members RM, Jungkook, Jin, Jimin, V, Suga and J-Hope recently visited The White House to meet Joe Biden. As they exited the venue, Jungkook greeted the staff with a namaste. Over this, the Indian fans of BTS have gone crazy. On Twitter, fans known as ARMY are praising Jungkook by trending Ab Ki Baar Jungkook Sarkar. A tweet read, 'Jungkook joining hands in the White House. Meanwhile, Indian ARMY's be like 'Ab Ki Bar Jungkook Ki Sarkar'.
BTS members(7) from South Korea- RM, Jin, Suga, J-Hope, Jimin, Taehyung and Jungkook – visited the White House and met the US president Joe Biden to discuss the "Anti-Asian hate and inclusivity". The visuals from BTS' White House visit had left the ARMY gushing and crushing, so very hard. BTS aka the Bangtan Boys, all wore black and white tuxes for the event. They all looked super dapper! Now, a trending video clip of Jungkook and his gesture of joining hands, Namaste, has been linked to the gesture of current Indian Prime Minister Narendra Modi, fans claim. We must say, the BTS ARMY's creativity level is unprecedented.
For the unversed, Jungkook joined his hand as a gesture of respect to the assorted media personnel who waited for them and patiently listened to their speech. And this few seconds clip has been turned into a goofy video by a Desi BTS ARMY who has given the clip the PM Modi touch.