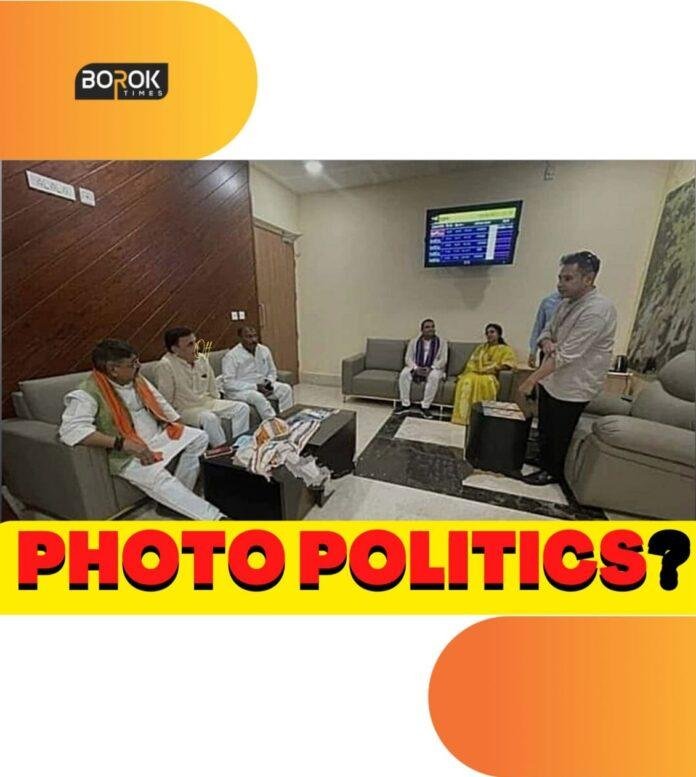 A photo of Bubagra Pradyot Manikya with some leaders of the BJP went viral on social media. Many suspected the meeting to be for the alliance in the upcoming election.
The Chairman of Tripura Indigenous Progressive Regional Alliance (TIPRA) Motha Bubagra Pradyot, who recently went to London along with TEF President Mr. Sunil Kalai and MLA Mr. Brishaketu Debbarma went to attend the "Ideas for India Conference" which was held in London from 18 May 2022 to 20 May 2022, returned to Tripura on 2 June, Thursday.
Speculations were doing the rounds following a photo of TIPRA chief Pradyot Debbarma with BJP leaders – Kailash Vijayvargiya, Vinod Sonkar Kishor Barman, and Papia Datta went viral on the social media.
While many assumed that the meeting was for the alliance of TIPRA Motha and the BJP, Bubagra Pradyot Manikya has clarified that he was only there waiting for his luggage, as were the leaders of the BJP. He said that while waiting for their luggage, they had some casual chat about the airport.
Responding to the speculations of the photo going viral, Bubagra termed it as "photo politics" by the Tripura BJP and as a "nonsense and cheap stunt".
Bubagra Pradyot Manikya said that he "bumped into the BJP leaders" at the VIP lounge at the MBB airport at Agartala in Tripura "while waiting for my luggage".
Terming the spread of speculations as a "cheap stunt" Bubagra said: "Those who took this picture and are spreading this have to be really cheap people."
"Bumped into the BJP leaders today at the VIP room as I landed from Guwahati today while waiting for my luggage at the airport! They said hello and I politely replied. But those who took this picture and are spreading this have to be really cheap people. I sometimes meet in a public place Jitendra Babu of CPIM, I meet Congress and TMC leaders but it's always whenever that I bump into BJP leaders this sort of nonsense is spread", posted Bubagra Pradyot Manikya on Facebook