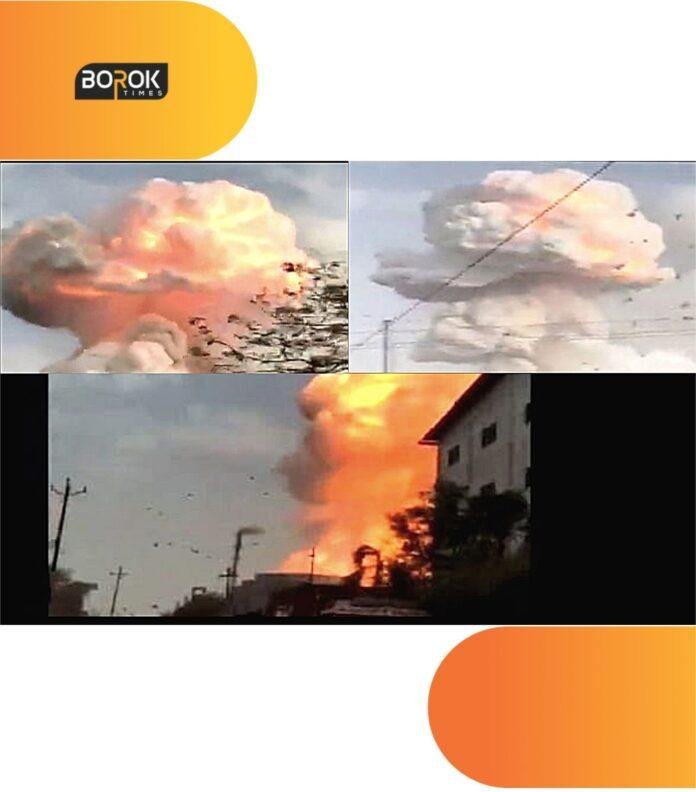 A massive fire broke out after an explosion in a chemical factory where eight people were injured at Nandesari GIDC in Gujarat's Vadodara city on Thursday. The blast took place at Dipak Nitrite in Vadodara's Nandesari area around 5 pm, followed by a fire visible from the highway around 10 km away.
The injured workers were taken to the hospitals after fire tenders reached the spot and doused the flames. As per the source, no casualty reports so far, and those injured were admitted to a nearby hospital.
Among the eight injured, three were in critical condition and taken to SSG hospital, where a team of 15 doctors was deployed to attend to them in the emergency ward. An ambulance has also been deployed outside the incident site, and a unit of healthcare professionals has been deployed.
Eight fire tenders are continuously working on bringing the fire under control, which had caused damage to the major part of the premises, the fire continued to rage even after two hours of operations, the fire officials said. "Mild, intermittent sounds of explosion' could also be heard inside the plant," the officials added.
A police officer said, 'We are yet to ascertain how many persons were inside the premises when the blast happened. The fire and rescue teams will be able to ascertain casualties only after sanitizing the premises after the fire is completely doused.'
According to the source on other media, Deepak Nitrite Company said in a statement that they are monitoring the situation closely.
"The safety and well-being of all our employees, and that of the communities around, is of foremost priority to us. All our manufacturing facilities are equipped with best-in-class systems and equipment, that ensure environmentally sustainable production. Our teams are already on-ground facilitating every possible support. Our communication channels are open 24×7, and we shall continue to provide updates and partner closely with all the relevant external stakeholders," it said.