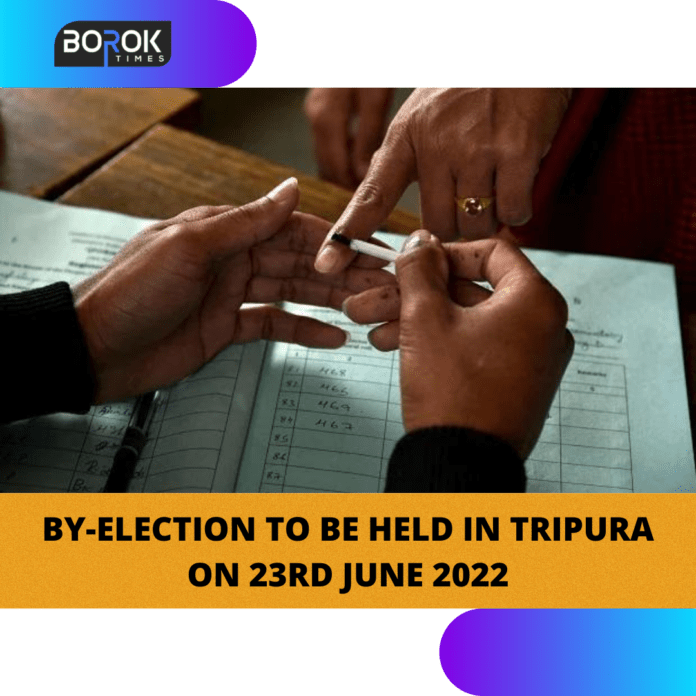 Tripura is going to held by-poll, here is what a citizen of Tripura should know why it is held. So, By-election is held with a definite purpose, which is to fill a political office that has become vacant. A member of a legislative assembly (Vidhan Sabha) often leaves his position vacant on various grounds, especially when he/she becomes inept. It could be the person's untimely death or a criminal conviction, which makes him ineligible to continue in office.
In a democracy like India, where political verdicts are people-driven and unpredictability is the norm, by-elections are a necessary enabler for restoring stability. An individual doesn't have to force hard-to-remember instances wherein by-elections were called because of voting irregularities and myriad other reasons. These elections occur between regularly scheduled elections and give people the opportunity to redeem their situation. If a state has suffered in the hands of an incompetent government in the first phase, it can get back its pie of prosperity by bringing a better alternative to the forefront.
By-elections have become a commonality in India, partly because of the misuse of the provision of law under the Representation of the People Act that allows a candidate to contest elections from two constituencies. When the candidate wins from both the constituencies, he/she has to vacate one of the seats. This triggers a by-election as one of the seats is rendered vacant.
In Tripura, the by-election is going to be held on upcoming 23rd of June, 2022.
The Election Commission of India has announced the schedule for the by-elections to the four vacant Assembly seats in Tripura — Agartala, Town Bordowali, Surma and Jubarnagar — which will be held on June 23.
Votes will be counted on June 26 and notification for by-elections will be issued on May 30, the election commission announced.
The by-elections — coming just nine months before the Tripura Assembly polls — are going to be crucial for the BJP, especially its newly appointed chief minister Manik Saha, as well as the opposition parties including the CPI-M, Congress and Trinamool Congress (TMC).
India has also witnessed several by-elections after an individual decides to shift allegiance and switch parties. A very good example could be seen in Gujarat, where seven seats fell vacant after Congress MLAs switched sides and joined BJP, in 2020.
If we go back to 2011, we have another classic instance of by-elections to behold. Trinamool Congress came to power in West Bengal after ending the Left domination of over three decades. At that time, Mamata Banerjee was still an MP in the Lok Sabha. She needed to become a member of the state legislature to bag the position of a Chief Minister. One of the MLAs from Bengal had to step down to let her contest from that constituency. This led to a by-election. Simultaneously, after she stepped down from her position as a member of Lok Sabha, the Kolkata (South) parliamentary constituency fell vacant, and this again called for a by-election.
This format of the election in India comes with a tinge of surprise and a whole lot of changes in the political landscape. It surely makes for a fascinating case study.