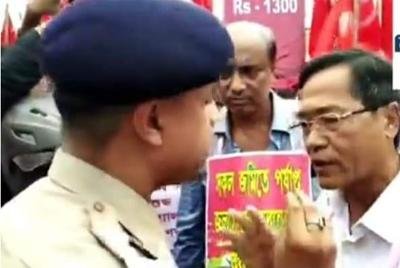 As the Assembly election are on the edge, the cases of political violence involving the ruling BJP and the opposition CPI(M) is witnessing of sharp acceleration. Today in Bishalgarh during a showdown, BJP groundlessly attacked CPI (M) deputationists, after which 2 BJP miscreants and 4/5 CPI (M) workers sustained minor injuries.
The CPI (M) State secretary Jiten Chowdhury said belittling the action of BJP "We then requested the police personnel to arrange for arrival of officers from the SDM office to receive their memorandum containing a sixteen point charter of demands; according upon information conveyed by police two DCMs arrived on the spot and received our memorandum and we turned back peacefully".

The state secretary went to Bishalgarh along with party Central committee member Roma Das and with former minister Bhanu Lal Saha.
They had a massive procession toward the Bishalgarh SDM office and former minister Bhanu Lal Saha was already present there .As the procession neared the SDM office a large contingent of police personnel posted there blocked the procession and said that they could not proceed as there might be law and order issue.
Talking to the media, Chowdhury added "when the procession was returning to a place near the Bishalgarh hospital , scattered gangs of BJP miscreants attacked the procession from roadside. This resulted in resistance by the CPI (M) workers and in the resultant clash two BJP miscreants and 4/5 CPI (M) supporters sustained minor injuries and two motor bikes were broken. "This time our workers resisted the BJP attacks because there was no other way to defend themselves".
previous to this, a large group of Congress workers beat up a BJP miscreant and member of the notorious motor bike force after a number of them had come to attack Congress's 'Bharat Jodo' rally at Baikhora under Belonia subdivision this morning.
In an another incident last night two BJP miscreants were beaten up by a group of opposition party workers last night. They sustained injuries and are in GBP hospital. Police sources said that a gang of BJP miscreants had ransacked and vandalised the houses of CPI (M) and Congress supporters in Bodhjung Nagar village under the police station of the same name on Tuesday night.
The police sources mention that the cases of political violence are going to accelerate in the coming months as the Assembly election are coming near.