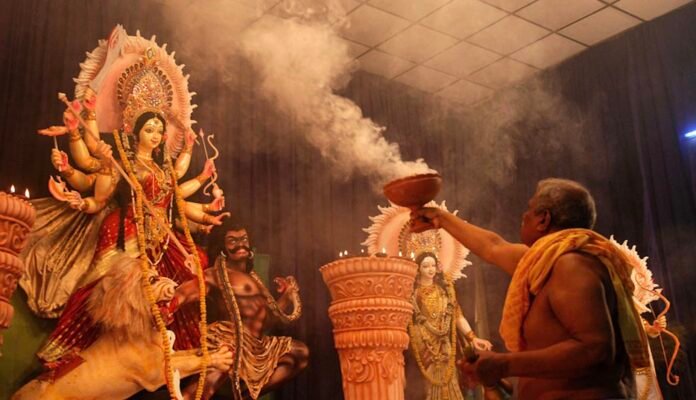 As the joyous festival of Durga Puja approaches in Tripura, the spirit of celebration is tainted by a wave of extortion and fear gripping the city of Agartala. What should be a time of communal harmony and devotion has turned into a nightmare for many commuters and residents who find themselves at the mercy of various puja clubs demanding exorbitant donations.
Students, in particular, are feeling the brunt of this ordeal as they are coerced into contributing specific amounts to these clubs. Not every student can afford the demanded sums, and the act of collecting or donating should ideally be based on an individual's willingness and capacity rather than the arbitrary wishes of these clubs.
Countless unreported incidents are shrouded in fear, but one shocking incident recently came to light on the roadside in Kailasahar. Truck drivers, fed up with the extortion tactics of some puja organizers, took a dramatic step by staging a road blockade protest near the old airport. They alleged that these organizers had been detaining their trucks and demanding exorbitant sums ranging from four to five thousand rupees per vehicle.
The situation escalated further with reports of damage to trucks and physical assaults on drivers in recent days. What's even more concerning is the alleged apathy of the local police station, which reportedly refuses to entertain complaints against the puja organizers.
The road blockade in Kailasahar resulted in hours of traffic disruption, affecting the movement of all vehicles between Kailasahar-Dahrmanagar and Kailasahar-Kumerghat. It was only when administrative authorities intervened that the blockade was lifted, promising action against those responsible for these reprehensible acts.
The essence of Durga Puja lies in unity, devotion, and celebration, not in terrorizing the people and exploiting their goodwill. As this issue gains public attention, one can only hope that the authorities will take swift and decisive action to curb this menace and ensure that the true spirit of the festival is restored in Tripura.