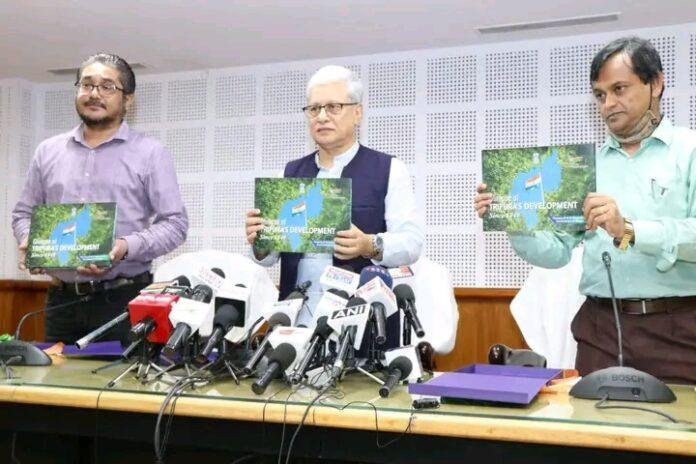 Jishnu Debbarma, Deputy Chief Minister of Tripura, on Tuesday, launched the coffee table book "Glimpse of Tripura's Development since 1949" by the Department of Planning and Coordination at the Secretariat, Aguli.
The coffee table book mainly deals with the seven areas of development viz., Primary Sector, Infrastructure Connectivity and Supply, Industry and Investment, Social Sector, Good Governance and Environment, and Forest and Climate change.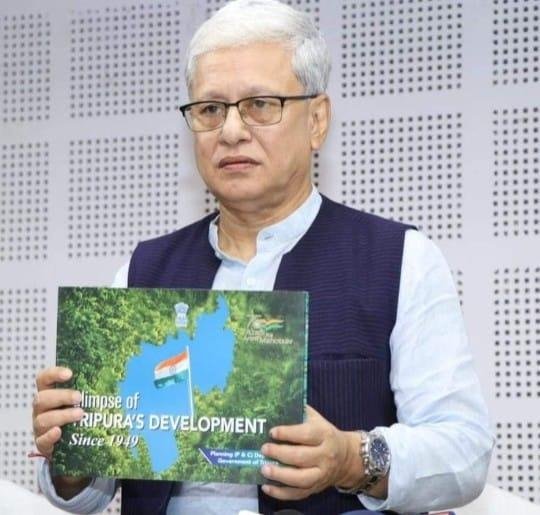 Karta Jishnu Dev Verma also wrote a post on social media handles regarding the launching of this coffee book. He captioned the post by " Book launch by planning and coordination department of Tripura title "Glimpse of Tripura development since 1949″ to mark the 50th year of Tripura statehood. The book outlines the development history of Tripura".
At the launching program of the coffee table book Karta jishnu describe a little about the theme of the coffee table book saying " This coffee table book is an endeavor to describe lucidly the vital efforts of the state State Government sincere efforts with colourful photographic glimpses of the spectacular translation of the state form 1949 till date in the areas of primary, secondary and territory sectors" According to a press release. The coffee table book is a compiled form of all the developments that Tripura witnessed in the last 50 years in all sectors of society.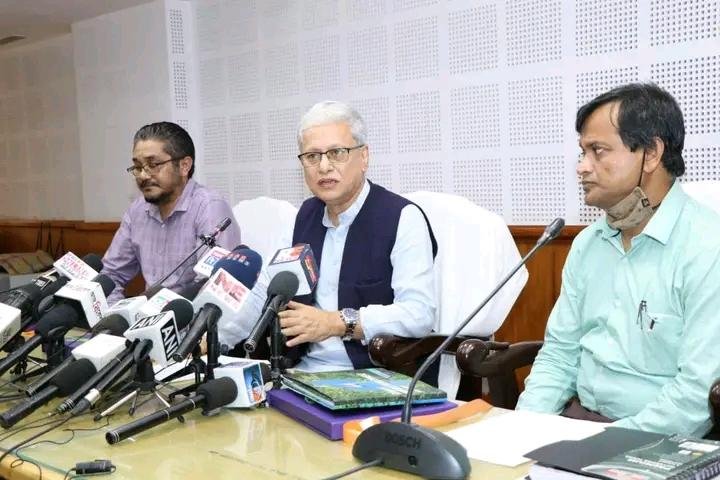 Deputy chief minister jishnu Dev Verma emphasized the contribution and work of the Tripura Bhubagras by adding: "As a part of this festival in this holy hour of "Amrit Mahotsav" the state of Tripura is bringing out a coffee table book highlighting the history of the spectacular transition of the state from 1949 till date. Tripura is a very ancient state of mythical India".
Further, he said that "During the long five hundred years of their reign, Many kings of the manikya dynasty practice monarchy on this land. Many kings and Maharajas have been instrumental in the development of the state. Their royal stories are written in the pages of history and narrated in the rajmala. the heroic tales of their infinite courage has made the state proud for uncountable times which everybody is carrying forward generation after generation".
This coffee table book compiles with the history of Tripura independence development since 1949 and is written by the editorial team from the planning (P&C) department, founded by Apurba Roy, Secretary, planning, and Shri Udayan Sinha, Director, Planning.
"Glimpse of Tripura development Since 1949" coffee table book majorly covers the important and prominent contributions of the Tipra Kingdom Bhubagras in the history of Tripura and its development. This book uproots incidents from the history of Tripura development like in 1895 how the Maharaja Birchandra Manikya emphasized modern agriculture by establishing an independent agriculture ministry in his cabinet, and his contribution to facilitating the lives of people by establishing the first post office in the municipality of Aguli in 1871 and first post office in the state in 1875 for facilitating the lives of the urban population.