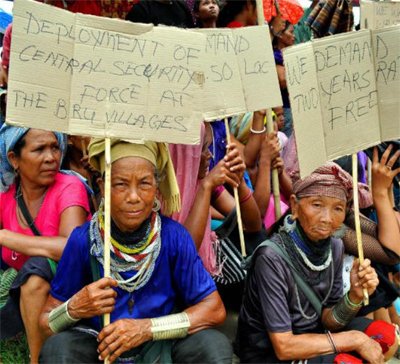 The process of enrolling the Reang (bru) refugees who came from the Mizoram has started by the administration.
The Reang (bru) refuses has come from Mizoram and provided permanent centre in Tripura.
Now the administration has started the enrollment program of these refuses in the voter list of the state.
Subhash Acharjee the sub-divisional magistrate of Kanchanput stated that they have already provided photo voter i-card to 678 persons belonging to 567 families who got resettlement in Bhandarima and Pushparampara in Kanchanpur. Another eight thousand i-card will be distributed shortly.
He said He said there were 5,478 families in four refugee camps in Kanchanpur out of which 60 percent has already reached in 12 settlement locations in different parts of the state.