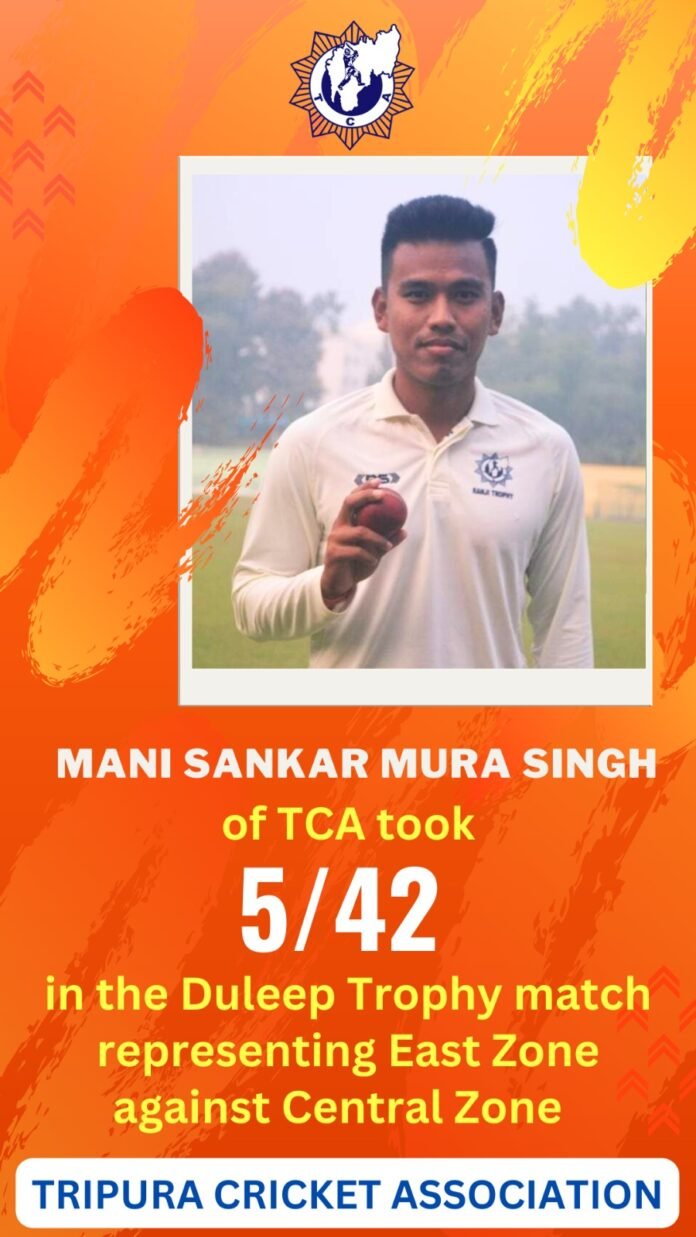 Impressive Performance by Manisankar Murasingh Restricts Central Zone to 182 Runs
" East Zone Bowler Manisankar Murasingh Takes 5 Wickets for 42 Runs "
In an exceptional display of bowling skills, Manisankar Murasingh, representing the East Zone, wreaked havoc on the star-studded Central Zone team during the Duleep Trophy match held in Bangalore. Murasingh's remarkable performance saw him claiming five crucial wickets while conceding only 42 runs, restricting the opposition to a mere 182 runs in the first innings.
The Duleep Trophy match, known for showcasing exceptional cricket talent across different zones in India, witnessed Murasingh's masterclass in bowling. His ability to consistently trouble the Central Zone batsmen with his pace and precision was evident throughout the match.
Murasingh's stunning spell not only demonstrated his individual brilliance but also significantly contributed to the overall dominance of the East Zone team. His well-executed deliveries and strategic variations kept the Central Zone batsmen guessing, leading to their downfall one after another.
The five-wicket haul by Murasingh not only bolstered his personal record but also played a pivotal role in derailing the Central Zone's batting lineup. His relentless efforts led to the early dismissals of key opposition players, destabilizing their innings and putting immense pressure on the rest of the team.
The East Zone team's remarkable performance in the first innings owes much to Murasingh's disciplined and skillful bowling. His ability to consistently hit the right areas, extract movement off the pitch, and maintain a tight line and length left the Central Zone batsmen struggling to score freely.
With his impressive feat, Murasingh has not only made a strong statement about his bowling prowess but has also set a high standard for his team in the ongoing Duleep Trophy. His remarkable performance will undoubtedly inspire his teammates and strengthen their resolve to secure a favorable outcome in the match.
As the Duleep Trophy continues, cricket enthusiasts eagerly await further displays of exceptional talent and competitive cricket from both teams. Murasingh's exceptional performance in the first innings has undoubtedly raised the stakes for the upcoming sessions, promising an exciting contest between the East Zone and Central Zone teams.
Manisankar Murasingh's outstanding display of bowling in the Duleep Trophy match deserves immense praise. His five-wicket haul for just 42 runs played a vital role in restricting the star-studded Central Zone team to a modest total of 182 runs in the first innings. Murasingh's exceptional skills and determination have undoubtedly made him a formidable force to reckon with in the tournament, setting the stage for an enthralling battle between the teams in the upcoming sessions.