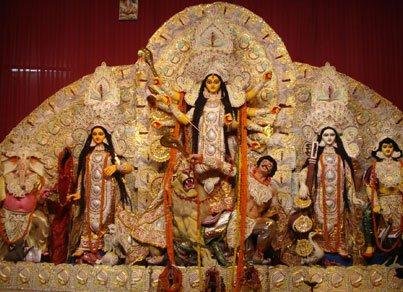 Agartala: The celebrations of Durga Puja began amid tight security in Tripura, while the devotees were leaving for the pandal on Mahashashthi's night on Saturday.
A lot of gathering was witnessed before the big puja pandal budget of the city Agartala on Mahasashthi night on Saturday.
This year's Durga Puja is also special in that there are no restrictions because of the pandemic as there have been in the last two years.
Although the Puja rituals will officially start on Sunday, people's excitement for the four-day festival could be seen on Friday itself. The Puja pandals with large budgets have also proposed unique themes for the great arrangements they have exposed for the pandal's hoppers.
As a result of the Puja celebrations, special security measures were also implemented and additional security measures were deployed in the city's areas.
Traffic restrictions are also imposed in Agartala city to avoid traffic congestion during peak hours
In total, 2,506 puja organizers have been authorized by the Tripura Police Service this year.
979 pujas are organized in the town of Agartala and the other 1527 pujas are executed in rural areas.
2,400 members of the Tripura Police and State Rifles were deployed to various parts of the state.
Talking about security provisions, Assistant Inspector General of Police Jyotsiman Das Chowdhury said, "Keeping parity with previous years, forces have been deployed in sufficient numbers in various parts of the state. Foolproof security arrangements had been put in place to ensure that people can enjoy the Puja days without any tension."
SDPO Sadar Ajay Kumar Das said, "Necessary orders on restrictions of traffic movements have already been passed. Already a crackdown was launched to arrest the thieves and burglars of the city. This will certainly give confidence to the city dwellers to come out of homes without any hesitation".
Meanwhile, Chief Minister Dr. Manik Saha and TTAADC Administration extended greetings to the people on the occasion of Durga Puja. After a gap of two years, Big budget Pujas depicting high-rise structures returned to the capital city.
To mention a few. Deshbandhu Chittaranjan Club located in the heart of town has selected Burj Khalifa as their Puja theme. Another significant Pandal Puja appeared in Azad Hind Sangha located in the Dhaleswar area. The theme for their pandal Puja was based on the extinct tribe group from Andaman Nicobar Island.
"We have heard that this ethnic tribe is going extinct which is why we are trying to showcase their life through our Puja pandal", said Sambhu Banik, a member of the club.
Meanwhile, all puja organizers have arranged flashy lights in all areas of town to woo pandal hoppers.
Besides the city, large pandal puja budgets have also been set up in the headquarters of the district of Bishalgarh and Udaipur- Sipahijala and the districts of Gomti.