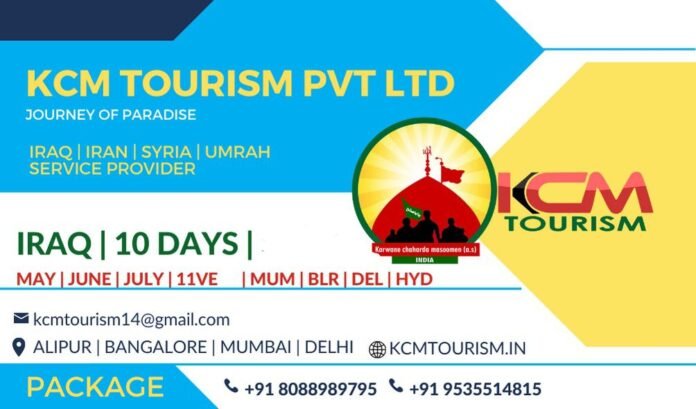 Introduction:
KCM Tourism is a renowned private limited company dedicated to providing exceptional travel experiences for Islamic pilgrimages to Iraq, Iran, and Syria. Led by the visionary directors Syed Ali Agha and Mir Sarwar Ali, the company specializes in offering comprehensive land packages, as well as full travel packages, ensuring a seamless journey for pilgrims. With a focus on arranging bus and flight tickets and facilitating visas for these sacred destinations, KCM Tourism stands as a trusted partner in facilitating meaningful and spiritually enriching experiences for pilgrims.
Unveiling the Sacred Land of Iraq:
Iraq holds a special place in the hearts of Muslims worldwide as the land of several significant Islamic pilgrimage sites. KCM Tourism is dedicated to assisting pilgrims in exploring the holy cities of Najaf and Karbala, where the revered shrines of Imam Ali and Imam Hussain are located. With meticulously designed land packages, the company ensures pilgrims have the opportunity to experience the spiritual serenity and historical significance of these sacred sites. KCM Tourism strives to make the pilgrimage to Iraq a transformative journey for each pilgrim, providing seamless travel arrangements and expert guidance.
Journeying to Iran, the Cradle of Islamic Civilization:
Iran, with its rich Islamic heritage and deep-rooted traditions, beckons pilgrims with a wealth of sacred sites. KCM Tourism facilitates pilgrimages to Iran, allowing devout travellers to visit the breathtaking shrines of Mashhad, where the holy shrine of Imam Reza awaits, and Qom, home to the revered Fatima Masumeh Shrine. Pilgrims can also explore the majestic Jameh Mosque of Isfahan, a remarkable symbol of Islamic architecture, and gain spiritual insights through visits to the holy cities of Qom and Shiraz. KCM Tourism ensures that each pilgrim's journey to Iran is marked by reverence, tranquillity, and memorable encounters.
Experiencing the Spiritual Heritage of Syria:
Despite the challenges the country has faced, Syria remains a treasure trove of Islamic heritage and a significant destination for pilgrims. KCM Tourism facilitates visits to the Syeda Zainab (a.s) and bibi sakina (a.s) in Damascus, a site of great historical and religious importance, where pilgrims can immerse themselves in the tranquillity and spirituality of this revered place. The company also provides opportunities to explore the ancient city of Damascus, where the Grand Mosque and other architectural marvels await. KCM Tourism's commitment to ensuring the safety and comfort of pilgrims allows them to embark on this sacred journey with peace of mind.
Comprehensive Travel Services for a Hassle-Free Pilgrimage:
KCM Tourism goes above and beyond to provide comprehensive travel services that cater to the specific needs of Islamic pilgrims. In addition to offering bus and flight ticket arrangements, the company assists in obtaining visas for Iraq, Iran, and Syria, simplifying the pilgrimage process. KCM Tourism's experienced team ensures that every aspect of the journey is meticulously planned, allowing pilgrims to focus solely on their spiritual quest and connect deeply with their faith.
Conclusion:
KCM Tourism, under the leadership of Syed Ali Agha and Mir Sarwar Ali, is a distinguished private limited company that specializes in facilitating Islamic pilgrimages to Iraq, Iran, and Syria. With their expertise in arranging comprehensive land packages, bus and flight ticket services, and visa facilitation, KCM Tourism ensures a seamless and spiritually enriching journey for each pilgrim. Embark on a transformative pilgrimage experience with KCM Tourism and allow the sacred lands of Iraq, Iran, and Syria to deepen your connection with Islam, leaving an indelible mark on your heart and soul.