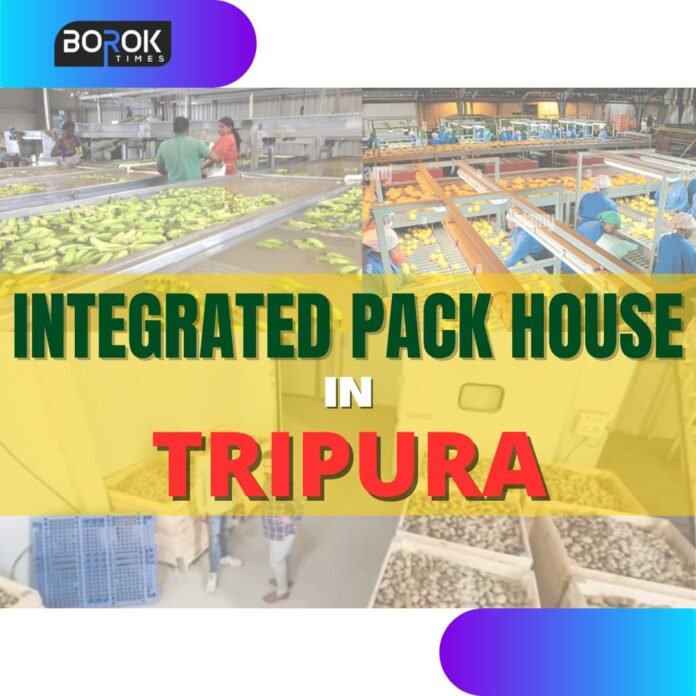 The first ever 'Integrated Pack House' in Tripura was inaugurated by Chief Minister Dr. Manik Saha at Agartala Research Center on Tuesday 28, June.
The new Pack House is constructed with aim of providing the farmers the proper price of their crops and so that the crops are stored properly, said Chief Minister. He also said that the Pack House will be convenient for the farmers while marketing their crops.
Union Minister of State for Agriculture and Farmers' Welfare Kailash Choudhary, and Tripura Minister of Agriculture and Farmers' Welfare Pranajit Singha Roy among others were present in the inaugural program.
Addressing the event, Chief Minister said that about14.50 MT of the horticultural crop is being produced in a year in the state. Different kinds of spices are produced in the state and earned their name even outside the state. Queen pineapples, jackfruits, and scented lemons are exported to other places of the country and abroad.
Different initiatives have been taken by the state government for the expansion of estate-grown crops on National and International levels, said the Chief Minister. Paddies are being procured from the farmers in the state at a Minimum Support Price. The farmers are benefitting through this. He said the youth of the state are now gaining interest in becoming self-reliant based on agriculture.
Union Minister of State for Agriculture and Farmers' Welfare Kailash Choudhary said that the problems regarding storing and marketing crops by the farmers will be solved through this Pack House. The government will take initiative to set up such Pack House in each district of the state in the future.
He said, the farmers are getting proper prices for their produced crops after this government was formed under the leadership of Prime Minister Narendra Modi. The farmers are now successfully becoming self-reliant. The present central government has increased the budget to six times in the Agriculture sector. He said that advanced technology is being adopted for the betterment of the agriculture sector and the farmers.