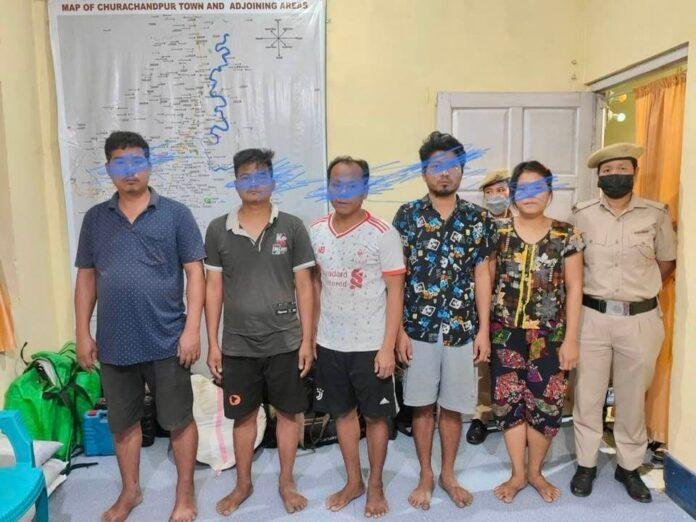 Manipur police on Wednesday, August 10 informed the media that five nationals from Myanmar who have been illegally residing in Ngathal village of Manipur's district Churachandpur have been arrested by the police on Tuesday night.
Manipur's chief minister Nongthombam Biren Singh speaking to the media said that the arrest had been made after a police team from the Churachandpur police station on Tuesday conducted a search based on information available from reliable sources that illegal intruders from Myanmar has been residing in the Ngathal village.
The arrested intruders include four men and a woman who were illegally staying in the said village of Churachandpur. The Manipur Chief Minister further informed that during interrogation the caught intruders failed to provide any valid documents and identity proof of being Indian nationals and were thereafter arrested by the Manipur police after proper protocols were followed.
Chief Minister Singh also stated to the media that, an FIR against the arrested nationals of Myanmar has been registered under the Foreigners Act Section 14 and further investigations are being done.
Illegal intruders of Myanmar residing in the state pose a major threat to Manipur for the fact that smuggling of various illegal drugs and addictive substances from the said nation to the Indian side has been a long-time problem the state's security forces have been trying to deal with.
The unfenced 1,643 km long India-Myanmar border that Manipur shares with the neighboring nation have always been a source of serious challenges to India's security forces as members of the various banned northeastern extremists and militant outfits taking shelter in Myanmar often gets involved in cross-border movements. The border is an open one allowing a free movement regime within 16 km on both sides.
The Manipur police notably, earlier this year, caught eighty nationals from Myanmar residing illegally in the Churachandpur district. The arrested members included both men, women, and children as well.