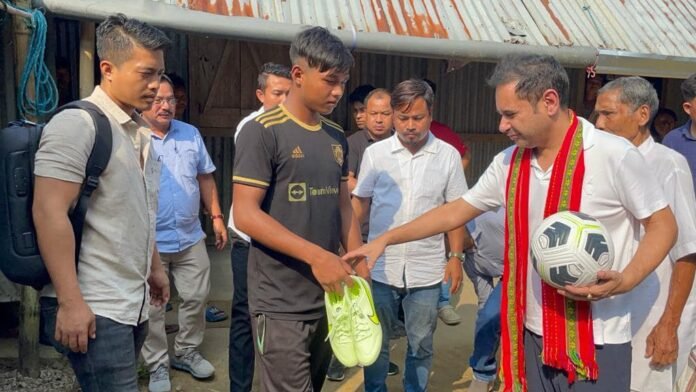 Bubagra Pradyot Bikram Manikya Debbarma, a prominent figure in Tripura, met with Baslang Jamatia, the viral sensation from Tripura whose exceptional free kick has drawn comparisons to Roberto Carlos' iconic strike against France. This meeting took place at Jamatia's village, where he received not only encouragement but also a thoughtful gift.
Bubagra Pradyot Bikram Manikya Debbarma presented Baslang Jamatia with a pair of high-quality football boots, a gesture aimed at enhancing his pursuit of the sport he is passionate about. Additionally, financial aid was extended to ensure that Jamatia could continue honing his remarkable skills in the field.
Expressing his optimism for Jamatia's future, Bubagra Pradyot Bikram Manikya Debbarma stated, "I hope in the future we can also arrange trials for him at top clubs outside, providing him with even greater opportunities to showcase his talent on a larger stage."
Jamatia's free kick video garnered attention not only locally but also on a national scale, capturing the hearts of football enthusiasts across the country. His innate talent and dedication to the sport have earned him a well-deserved reputation as a rising star in the world of football.
This heartfelt act of support from Bubagra Pradyot Bikram Manikya Debbarma not only recognizes Jamatia's extraordinary ability but also serves as an important step towards nurturing and uplifting budding talents in the region. It reflects a broader commitment to promoting sports and providing opportunities for young athletes to realize their full potential.