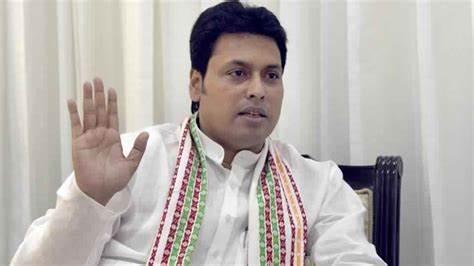 Biplab Kumar Deb, 53, who was the Chief Minister of Tripura, will be in-charge of Haryana BJP. Present party in-charge Vinod Tawde will now serve in Bihar. While Tawde has been entrusted with the responsibility of a big and challenging state like Bihar, Haryana has been handed over to Biplab Kumar Deb, who has experience in running the government and organization.
BJP General Secretary Vinod Tawde and Union Minister Bhupendra Yadav went to Tripura to resolve the dispute when Biplab Kumar Deb had a confrontation with the MLAs while he was the Chief Minister of Tripura. Deb, with an RSS background, became the BJP in-charge of Tripura in 2014. In 2016, he was made the state president of Tripura BJP. In 2018 he won the assembly election from Vsalipur constituency by defeating Amal Chakraborty of CPM. He was then elected as the tenth Chief Minister of Tripura on 9 March 2018. Under Deb's leadership, the party defeated the Left Front government ruling there for 25 years.
Vinod Tawde had a two-year stint in Haryana as the in-charge. He became in-charge of Haryana BJP in November 2020. While being in charge of the party, he worked to create excellent coordination between the government and the organization and remained active in the state throughout his tenure.
Tawde has played an important role in activating party workers by taking organizational meetings one after the other. He has worked with the party's state president Omprakash Dhankhar and Chief Minister Manohar Lal in an active role for two years.
Biplab Dev considers Prime Minister Narendra Modi as his political mentor. In 2014, Modi had sent him from Delhi to Tripura after seeing his qualities as a trained RSS worker. While in New Delhi, Deb served as the personal secretary of former BJP leader KN Govindacharya.
He also worked as a personal assistant to Rita Burma, a former BJP MP and Minister of State for Mines and Minerals in the Vajpayee government. He has also been an assistant to Ganesh Singh, MP from Satna in Madhya Pradesh. Biplab Deb had achieved great success in eradicating drugs in Tripura during the first six months of becoming the Chief Minister.