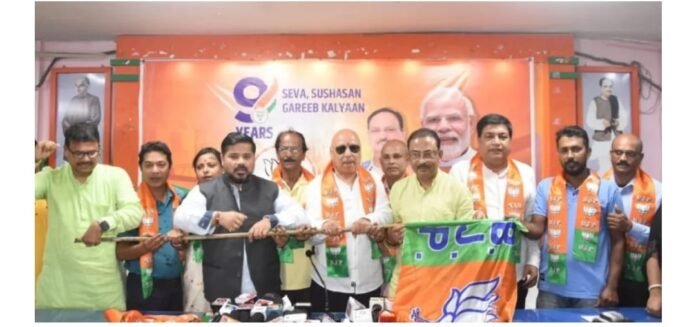 In a significant political development, Asish Lal Singh, the former president of the Tripura unit of the Trinamool Congress (TMC), officially announced his decision to join the Bharatiya Janata Party (BJP) today. The move is expected to bolster the BJP's position in the state, signaling a major shift in the political landscape.
Asish Lal Singh, known for his influential role in the TMC, made the announcement during a press conference held in Agartala. Flanked by prominent BJP leaders, Singh expressed his confidence in the BJP's vision and leadership, citing its commitment to development and inclusive governance as the primary reasons for his decision to switch parties.
Singh's decision to join the BJP comes at a crucial time, as political dynamics in Tripura have been evolving since the BJP's rise to power in the state. With the addition of Singh, the BJP aims to further consolidate its position and expand its base in the region.
The former TMC leader's move to the BJP is seen as a blow to the TMC, which has been making efforts to establish a foothold in Tripura's political landscape. Singh's strong influence and network within the TMC could potentially bring about a realignment of political allegiances, providing the BJP with an advantage in the upcoming elections.
In his address, Singh emphasized the BJP's development-oriented approach and its commitment to empowering the people of Tripura. He also praised the central government's various initiatives and policies that have positively impacted the state.
Singh's entry into the BJP is expected to energize the party cadre and attract a significant following, as his political acumen and leadership skills have been widely acknowledged. This move also underscores the BJP's ability to attract key leaders from rival parties, further strengthening its position in the region.
The political landscape in Tripura is likely to witness increased competition between the BJP and the TMC, with both parties vying for dominance in the upcoming elections. Singh's switch to the BJP adds a new dynamic to the political equation, making the state's electoral battle all the more intriguing.
As the BJP continues to focus on expanding its footprint in the northeastern region, Singh's joining the party is seen as a significant achievement. It remains to be seen how this move will shape the political scenario in Tripura and influence the forthcoming elections.