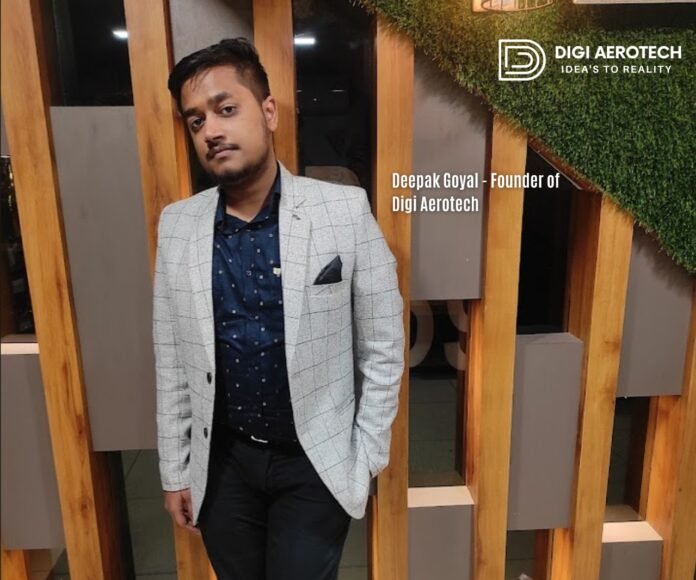 Deepak Goyal the founder of Digi Aerotech was able to create a successful marketing agency Names Digi Aerotech at just the age of 22 because of his hard work and dedication. He had a clear vision of what he wanted to achieve and was willing to put in the time and effort to make it happen. He took advantage of online marketing platforms, such as social media, to reach potential clients and developed a comprehensive strategy for outreach and promotion.
He never stop learning to stay up to date on industry trends and invested in learning skills such as SEO, PPC, Website design trends, consumer behavior, Marketing strategy, and content marketing. With his passion and commitment, he created a successful digital marketing agency named Digi Aerotech and paved the way for others to follow.
Deepak always had ambitions to create his own Digital Marketing & IT Solutions company. Before taking that step, it's important to gain experience in the industry that he is interested in. Consider that he applied for a job in TR Capital (Hisar's Most Trusted and Oldest Stock Market Company) as a Digital Marketing Executive and later on prompted as Chief Marketing Executive Officer. He gained a lot of experience in his journey with TR Capital. It will also help him develop the necessary skills and resources to make his own Digital Marketing Company a success.
Digi Aerotech is Currently Haryana's No.1 Digital Marketing Agency due to its Marketing Style focus on quality. Where all other digital marketing agencies just focus on numbers Digi Aerotech Focuses on quality & Services. Digi Aerotech is Known for its quality designs & Premium Quality Designs at India's most affordable prices.
They Provide 360 Degree Digital Marketing Solutions to all SMEs. They Provide every business with a unique and approachable Marketing plan as per their business and current objectives. They provide services such as Social Media Marketing, SEO, Website Designs, Meta Ads Solutions, PPC & Google Ads, Apps Promotion, Creatives, Branding, GMB Ranking & Much More.
They recently launched their new plans & Services for e-commerce stores. they are giving account management and promotion services to Amazon, Flipkart, and Messho Sellers. They offer the most affordable prices and the most quality services.
Currently, Digi Aerotech Works with 120+ Companies & 18+ Industries such as Pharma, Finance, Hospitals, Fitness, Gym, Healthcare, Travel, Wellness, Steel, Furniture, Kitchen Appliance, E-commerce, Education, Beauty & Styles, Fashion, and Much More. Mr. Deepak Goyal has a dream to make every business available on the internet. They successfully maintained millions of ad budgets in recent months.