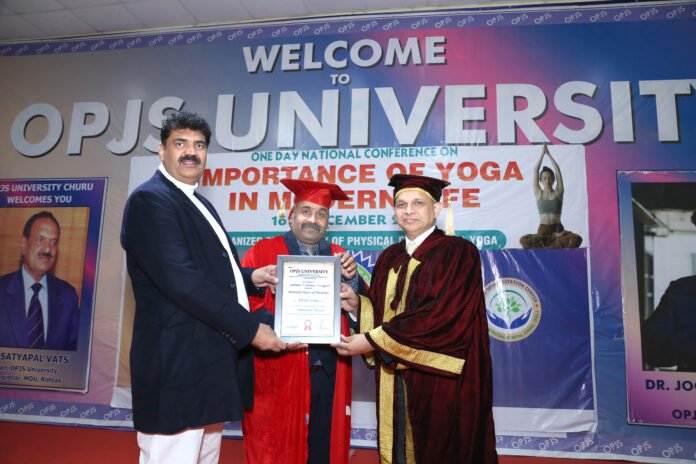 MD & CEO of RVK Meditech and RV Lifesciences Dr. Rajesh Kumar awarded with Honorary Doctorate by OPJS University , Rajasthan – India in a ceremony held on Dec'22.
Dr. Rajesh Kumar, was presented an Honorary Doctorate of International Business for distinguished service to the field through technological leadership, innovation and transformation.
Dr. Joginder Singh , Chancellor of University congratulated Mr Rajesh on his significant contribution in International Business specially in Pharma Industry. He said "Dr. Rajesh Kumar has made an outstanding contribution to Pharma Industry & Business as an exemplary executive leader, making him a worthy recipient of the Honorary Doctor of International Business."
Dr. Rajesh Pathak – Vice Chancellor of University , RJ Aarti Malhotra from All India Radio, Dr. Tilak Tanwar – Author & Guinness World Record Holder & other eminent personalities also graced the event.
Dr. Rajesh expressed his deep gratitude for the honour & said "We are responsible for our tomorrow, which we have to bring about through our thoughts and actions . This honour will inspire me to serve the World & Pharma Industry more passionately. I thank you University as well as my mentors who always push me to achieve better in life"
Dr. Rajesh Kumar is a cunning businessman, who earned his position with his hardwork, stubborn-nature and skills. MD & CEO of RVK Meditech and RV Lifesciences, as well as the Director of RV Group & OPV. With his ease amid contradiction and experience as a well-known start-up and turnaround specialist, he developed and led high-performing teams to success with his over 30 years of experience.
Showing no sign of slowing down, he travelled to over 50 countries, remained in five different countries (excluding India), and gained a diversified, multicultural, and global perspective. With his expertise in Rest of the World (RoW) markets and Eastern Europe, he assisted in the establishment of a US/EU-approved factory and is therefore familiar with the legislative procedure in these markets. and handled a US$200 Million Profit & Loss centre, Sales, Marketing, Business Development, Strategy, Projects/Manufacturing.
As MD & CEO RVK Meditech and Director of RV Group, Rajesh is enjoying his entrepreneurial experience and preparing the firm for an IPO in the next three years.