The 114th birth anniversary of the last king of Tripura, Maharaja Bir Bikram Kishore Manikya was celebrated on 19 August every year. He was the king of Tripura till 1947 and was also popularly known as the "Modern Architect of Tripura". He was also an educationist who was the first to set up a Higher educational institution in Tripura. He is also the first ruler to visit Europe and America from 1931 to 1939.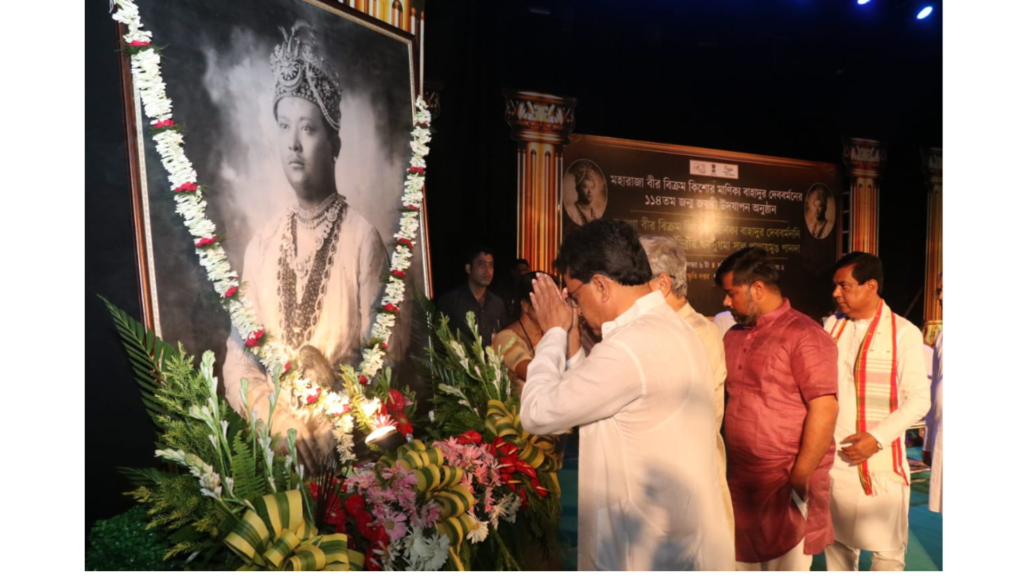 This year Chief minister and state BJP president Manik Saha paid floral tribute to king Bir Bikram Kishore Manikya at party headquarters to the statue of the Maharaj at Santirbazar in South Tripura.
While addressing about this Chief minister Manik Saha also said that the government has declared an official holiday on the occasion of Bir Bikram's birth anniversary to make the date significant to the citizens of Tripura. Additionally informed about the renaming of Agartala airport after the name of King Bir Bikram.
Maharaja Bir Bikram welfare Society gave tribute to him by organizing a colorful procession on Friday morning marching various roads of Agartala city and they all gathered at Ujjayanta Palace to cut a double-story cake in the presence of Maharaja Bir Bikram Kishore Manikya's die heart followers.
Tripura Tribal Areas Autonomous District Council (TTAADC) gave tribute to the Bir Bikram Kishore Manikra Bahadur at MBB Lampra in Khumulwng. Chairman Jagadish Debbarma was present as a special guest.
At the time when Britishers wanted to make English an official language, it was difficult for citizens to speak as the majority of the population was Bengali speakers that time the maharaja Bir Bikram was the one who oppose the Britishers and introduces Bengali as the official language which was easier for citizens to communicate.