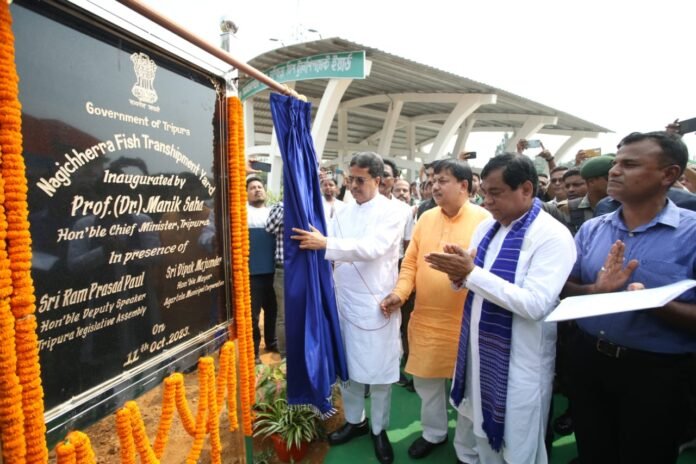 Tripura Chief Minister Dr. Manik Saha inaugurated the Nagichhera Fish Transhipment Yard today. The project, completed at a cost of approximately Rs. 3.50 crore, is poised to revolutionize the handling of fish and seafood distribution in the region.
The Nagichhera Fish Transhipment Yard is strategically located to serve as a central hub for the seamless transfer of fish and seafood products. This state-of-the-art facility is equipped with modern infrastructure and advanced logistics, ensuring swift and efficient operations.
With its inauguration, the Yard is expected to play a crucial role in decongesting the streets of Agartala. The reduction of heavy vehicular traffic associated with fish transportation will alleviate the burden on the city's roadways, ultimately leading to smoother traffic flow and a decrease in pollution levels.
Furthermore, the facility's operations are set to positively impact the cleanliness of local market areas. By centralizing the transhipment process, potential spillage and waste associated with fish handling will be minimized, leading to a cleaner and more sanitary market environment for vendors and consumers alike.
Speaking at the inauguration ceremony, Chief Minister Dr. Manik Saha expressed his enthusiasm for the project's potential to transform the region's fish industry. He emphasized that the Nagichhera Fish Transhipment Yard is not only an investment in infrastructure but also a step towards modernizing and streamlining the state's seafood supply chain.