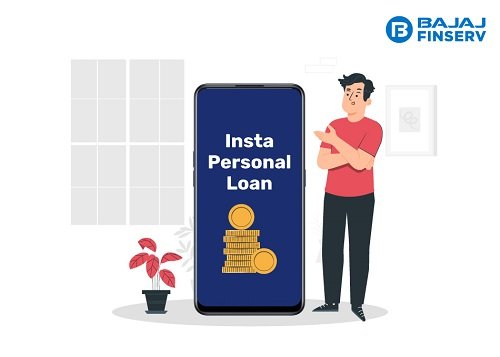 Bajaj Finance has introduced Insta Personal Loans as an effective solution for urgent expenses. Existing customers can secure a pre-approved Insta Personal Loan of up to Rs. 10 lakh, with funds being disbursed within a timeframe of 30 minutes to 4 hours. New customers can easily check their pre-assigned loan limit using their mobile number and OTP. With these pre-approved offers, accessing funds becomes faster, simpler, and more convenient, allowing individuals to meet their urgent financial requirements with ease.
Bajaj Finance Insta Personal Loan
Here are some key benefits of an Insta Personal Loan
Check the offer in 2 clicks
With an Insta Personal Loan, there is no need to undergo a lengthy application process to determine the amount that can be borrowed. Customers can gain access to funds in minutes without ever leaving the comfort of their homes. Existing as well as new customers can easily view their Insta Personal Loan offer by simply entering their valid mobile numbers and OTP.
Quick disbursal time
The standout feature of an Insta Personal Loan is its remarkable disbursal speed. All procedures are expedited in this instant loan to ensure maximum customer convenience. Customers can expect the funds to be deposited into their bank account within 30 minutes to 4 hours.
No proof of income is required for select customers
Certain existing customers can receive an Insta Personal Loan without submitting any paperwork, such as proof of income or KYC documents. Additionally, the entire procedure is conducted with the utmost transparency. All applicable fees and charges are detailed in the loan documentation and on the companys website, leaving no place for hidden fees.
Flexible repayment tenures
Insta Personal Loans offer flexible payback terms. Customers can choose a repayment tenure that ranges between 6 to 60 months. For greater assistance in financial planning, the Insta Personal Loan EMI Calculator allows customers to calculate estimated equated monthly instalments (EMI) for different loan amounts and tenures. This vital tool enables borrowers to make informed decisions by providing a clear understanding of their repayment obligations.
Coping with the uncertainties of financial management in todays world can be quite demanding. The Bajaj Finance Insta Personal Loan stands out as an excellent option, providing customers with a convenient way to address unexpected expenses. Offering a substantial loan value of up to Rs. 10 lakh, disbursed within minutes, the Bajaj Finance Insta Personal Loan serves as a comprehensive solution for urgent financial requirements.
Bajaj Finserv Insta Personal Loan | Get money in your account within minutes | #NoWaitLoanReadymade
YouTube Video link: www.youtube.com/watchv=usOfCerxMaw
Bajaj Finance Limited
Bajaj Finance Ltd. ('BFL', 'Bajaj Finance', or 'the Company'), a subsidiary of Bajaj Finserv Ltd., is a deposit taking Non-Banking Financial Company (NBFC-D) registered with the Reserve Bank of India (RBI) and is classified as an NBFC-Investment and Credit Company (NBFC-ICC). BFL is engaged in the business of lending and acceptance of deposits. It has a diversified lending portfolio across retail, SMEs, and commercial customers with significant presence in both urban and rural India. It accepts public and corporate deposits and offers a variety of financial services products to its customers. BFL, a thirty-five-year-old enterprise, has now become a leading player in the NBFC sector in India and on a consolidated basis, it has a franchise of 66.05 million customers. BFL has the highest domestic credit rating of AAA/Stable for long-term borrowing, A1+ for short-term borrowing, and CRISIL AAA/Stable & [ICRA]AAA(Stable) for its FD program. It has a long-term issuer credit rating of BB+/Positive and a short-term rating of B by S&P Global ratings.
To know more, visit www.bajajfinserv.in.
​