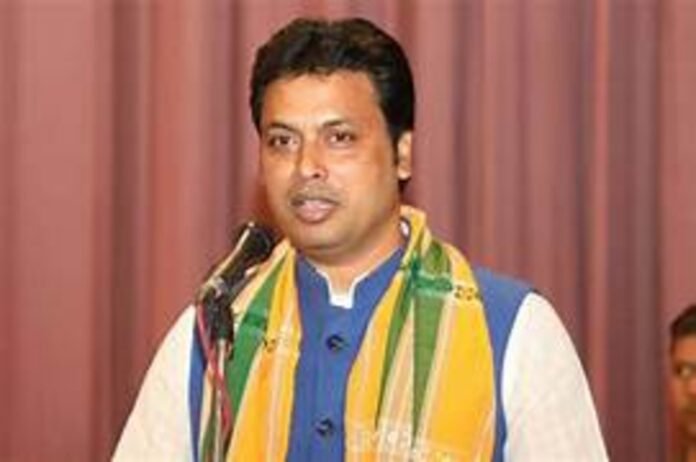 Internal tensions within the Bharatiya Janata Party (BJP) in Tripura have escalated, with former Chief Minister Biplab Kumar Deb launching a guerrilla-style campaign against current Chief Minister Dr. Manik Saha. The rift deepened when Dr. Saha advised party members not to refer to Pradyot Kishore, the chief of 'Tipra Motha,' as 'Maharaja' or 'Bubagra.' While the Chief Minister's advice aligns with democratic principles, Deb, who was removed from power, seized the opportunity to criticize the government. This article explores the emerging power struggle, the role of Tripura's royal family, and the potential consequences for the BJP.
Biplab Deb, disgruntled after his removal from office and deprived of political power, responded by reminding people of the renaming of Agartala airport and other steps taken to honor the royal family. However, he failed to acknowledge that these decisions were made to honor legitimate kings and 'Maharajas.' Furthermore, Deb's ill-conceived decision to accept 35,000 Reang refugees under pressure from Pradyot Kishore further strained the situation. Kishore, seeking recognition from the central government, now advocates for the appointment of an 'interlocutor.'
Another dissident within the BJP is Pratima Bhowmik, who harbors disappointment after failing to secure the position of Chief Minister. During the 'Karyakarini Baithak' in Charilam, Bhowmik initially refused to take the dais, leading to dissatisfaction among party members. Only the intervention of Tripura observer Dr. Mahesh Sharma persuaded her to briefly join the stage. This incident left a bitter taste among the attendees and showcased the growing discontent within the party.
Pradyot Kishore, seemingly unable to accept the loss of his ancestral title and position, has resorted to negative politics. He sponsored a procession in Takarjala to protest the Chief Minister's comments about his status. Kishore made provocative statements to journalists, challenging the BJP's ability to govern while disregarding the party's considerable support base, including its success in winning seven out of twenty tribal reserve seats. His apparent plan to exploit ethnic polarization for personal gain fails to consider the potential disastrous consequences of such a strategy.
The BJP in Tripura is witnessing increasing internal strife and power struggles, primarily involving ousted Chief Minister Biplab Kumar Deb and current Chief Minister Dr. Manik Saha. The controversy surrounding Pradyot Kishore's title and the ensuing protests further exacerbate the situation. As dissent and polarization within the party continue, it is essential for the BJP leadership to address the internal conflicts and find amicable solutions. Failure to do so may jeopardize the party's unity and impact its political standing in Tripura.