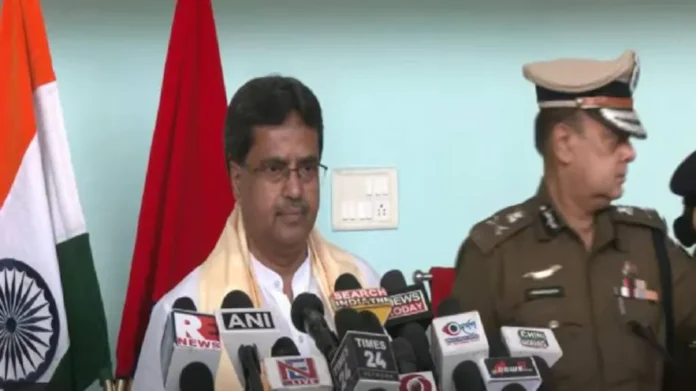 On November 20, Tripura Chief Minister Dr Manik Saha claimed that the law and order situation in the state has improved after BJP came in power.
CM Saha said this while addressing a press conference after a meeting on the law and order situation along with the Office in charge of all police stations. 
He added ,"I had the plan to interact with the Officer in charge of all police stations and accordingly I asked the Director General of Police Amitabh Ranjan. We have 83 police stations including Women's police stations. All OCs were present including District Superintendents, DIGs, and IGs. The traffic police personnel were also present. We held a detailed meeting about the state including the law and order situation".
"Many allegations raise from different corners claiming that the law and order situation is not good in Tripura. Especially opposition political parties always claim that law and order deteriorated in the state. A few days back also I held a meeting with senior police officials and today with the OC level. After holding the meeting I can say that after 2018 the law and order have improved in every aspect", the CM said.
CM further added that he has listened to the problems that police are facing during their duty and talked about the present law and order situation. 
While the Giving data on the crime rate the CM Saha said, around 15 per cent of murder cases were reduced, there is a sharp rise like 10 per cent reduction in dowry death, rape declined by 10 per cent, and around 35 per cent reduction in molestation, 60 per cent reduction in eve teasing, 30 per cent crime against women.