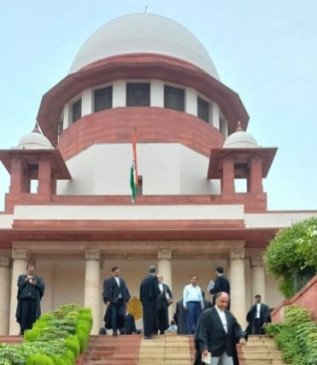 The Supreme Court has issued notice to the Center and the Assam government in the matter of sacking 200 additional Foreigners Tribunals (FT) members, who were earlier appointed to handle cases related to the National Register of Citizens (NRC).
Through a notification issued on October 14 by Digant Bara, Commissioner and Secretary, Home Department, the Assam government terminated his services with effect from September 23. The manner in which they have been removed has led to resentment among these members and some of them have approached the apex court challenging the government's decision.
A lawyer told a division bench of the apex court on Friday that 200 additional tribunals were to be set up in Assam to deal with pending foreigners' cases. At present, about 1.5 lakh foreign cases are awaiting adjudication in tribunals. He said, the state government wrongly linked the service of additional members to the NRC exercise. Further, the Government's notification is in clear violation of Articles 14 and 16 of the Constitution of India.
The Foreigners Tribunal (FT) is a quasi-judicial body and a member of the FT holds the rank of a judge. In addition to the 100 regular FTs, soon after the full draft NRC was published in August 2019, the Assam government appointed lawyers, retired civil servants and judicial officers for an additional 200 FTs.
Hearing the arguments of the counsel representing the petitioners, the apex court sought response of the state and central government on the matter.