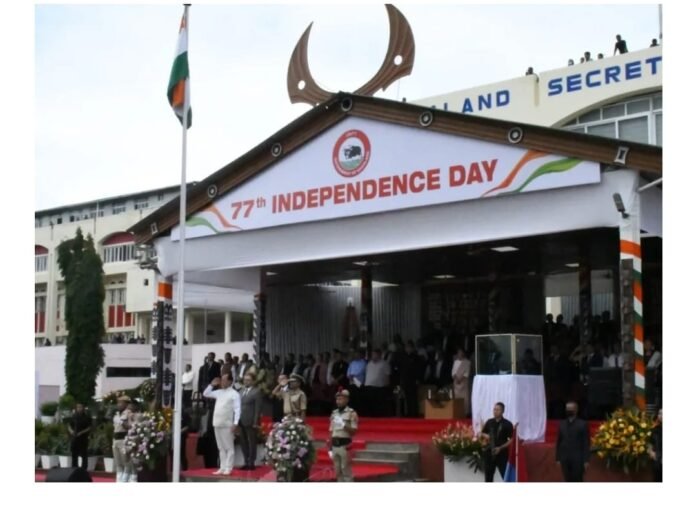 Nagaland's Chief Minister Neiphiu Rio Takes Initiative to Uplift State through Drug-Free Pledge
In a resolute move towards combating the persistent issue of substance abuse, Chief Minister Neiphiu Rio of Nagaland has taken the lead in administering a compelling drug-free pledge. This crucial step, aimed at fostering a healthier and more productive society, highlights the government's unwavering commitment to address the alarming challenges posed by drug dependency.
The event, marked by its solemnity and significance, saw Chief Minister Rio at the forefront, rallying the administration and citizens alike to join forces against the scourge of drug abuse. With the increasing concern over the adverse effects of narcotics on the youth and the overall socio-economic fabric of the state, this proactive stance underscores the urgency of the matter.
Addressing a gathering of government officials, community leaders, and concerned citizens, Chief Minister Rio emphasized the need for collective responsibility in tackling this issue. He articulated that a drug-free Nagaland is not only a governmental objective but a shared aspiration of the entire populace. By undertaking this pledge, the government aims to galvanize a movement that transcends boundaries and resonates with every individual, regardless of age, background, or occupation.
The drug-free pledge event served as a poignant reminder of the devastating consequences of substance abuse, not only on individual lives but also on families and communities. The Chief Minister's call to action is timely, as the state has been grappling with the detrimental effects of addiction, leading to a rise in crime rates, a decline in productivity, and a strain on healthcare resources.
By placing the administration at the forefront of this initiative, Chief Minister Rio has set a precedent for leadership and accountability. The pledge symbolizes a commitment to implementing stringent measures to curb drug trafficking and ensure that those afflicted by addiction receive the necessary support for rehabilitation and reintegration into society.
Furthermore, this event is a testament to the power of collective determination. The Chief Minister's lead in taking the drug-free pledge has already ignited a spark of optimism across Nagaland, with various sectors of society expressing their solidarity and pledging their unwavering support to create a drug-free environment. It is anticipated that this united front will not only deter potential drug users but also encourage those currently struggling with addiction to seek help without fear of stigmatization.
Chief Minister Neiphiu Rio's administration administering a drug-free pledge marks a transformative moment in Nagaland's fight against substance abuse. The pledge serves as a beacon of hope, uniting the people under a common goal and mobilizing efforts to rid the state of the detrimental effects of drug dependency. With this determined step, Nagaland is poised to usher in a new era of health, well-being, and prosperity for all its citizens.