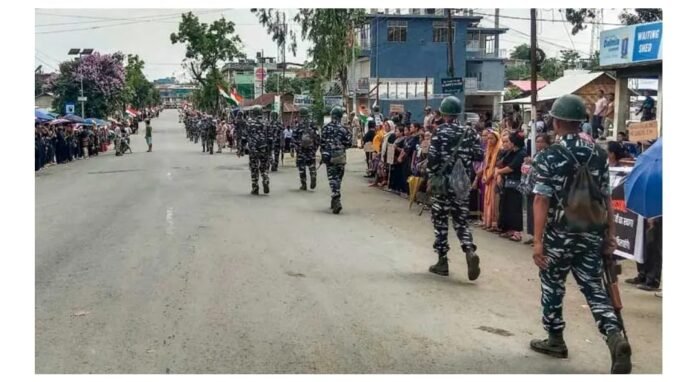 Imphal: In a recent incident near the border of Imphal East and Kangpokpi district in Manipur, a clash between the Village Defense Force (VDF) and a group of militants resulted in the injury of at least five individuals, according to local authorities.
The encounter took place on Monday at Khamenlok, where tensions escalated between the VDF personnel and the armed militants. The VDF, which serves as a local defense force, has been actively involved in maintaining security in the region.
The exact motive behind the clash and the identity of the militants involved are yet to be determined. Law enforcement agencies and local authorities are actively investigating the incident to gather more information and apprehend those responsible.
Upon receiving information about the situation, security forces promptly arrived at the scene to control the situation and prevent any further escalation of violence. The injured individuals were provided immediate medical assistance and have been admitted to nearby hospitals for further treatment. Their current condition is being closely monitored.
Incidents of clashes between security forces and militants have been a cause for concern in Manipur, and efforts have been made to maintain peace and stability in the region. The incident serves as a reminder of the persistent security challenges faced by the authorities in the area.
The local administration has assured the public that all necessary measures will be taken to ensure the safety and security of the residents. Security forces have been deployed to maintain a heightened state of vigilance and prevent any untoward incidents.
The state police and other security agencies are working in close coordination to gather intelligence and track down the militants involved in the encounter. Stringent security measures have been put in place to prevent any potential threats to the peace and harmony of the region.
The incident has also highlighted the need for continued efforts to address the root causes of militancy and promote dialogue and understanding to bring about lasting peace in Manipur.
As investigations continue, the authorities have urged the public to remain calm and cooperate with law enforcement agencies by providing any relevant information that could assist in resolving the case.
The local administration will continue to monitor the situation closely and take necessary actions to maintain law and order in the affected areas.