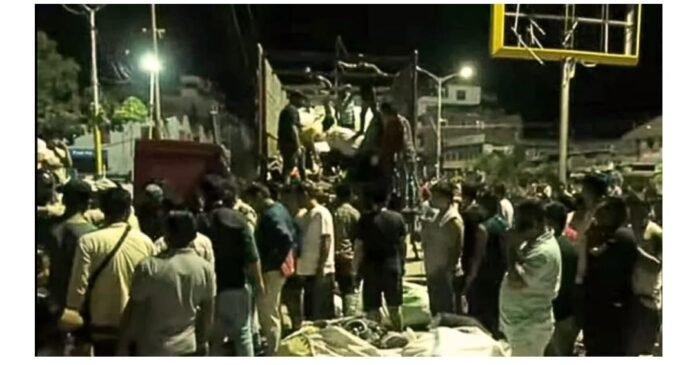 Imphal, Manipur
In a significant operation on Thursday, the Manipur Police made a startling discovery, recovering two sackfuls of empty bullet shells from a truck that was transporting scrap materials within the city. The seizure has raised concerns about the potential misuse of ammunition and has prompted authorities to initiate a thorough investigation.
Acting on a tip-off, a team of law enforcement officials intercepted the truck in a routine inspection near an industrial area in Imphal. Upon conducting a thorough search, they uncovered the startling contents of two sacks filled with spent bullet casings. The vehicle, initially believed to be carrying harmless scrap materials, quickly turned into a subject of great interest.
The recovery of such a large quantity of empty bullet shells has raised questions regarding their origin and purpose. Authorities suspect that the ammunition might have been obtained unlawfully or could be linked to criminal activities. The police are now working tirelessly to trace the source and determine the intended destination of the bullet casings.
Preliminary investigations suggest that the truck driver and accompanying individuals may have been unaware of the illicit cargo concealed among the scrap materials. The police are treating them as potential witnesses and are questioning them to gather more information that could aid in the investigation.
Senior police officials have stressed the importance of identifying the individuals or groups responsible for the transportation of the bullet shells. Such discoveries serve as a reminder of the need for stringent measures to prevent the circulation of illegal arms and ammunition that can endanger public safety.
The recovered bullet shells will undergo forensic examination to extract any possible evidence that may shed light on their origin. Additionally, the police will collaborate with intelligence agencies and other law enforcement units to ascertain if there is any connection between this incident and previous cases involving illegal arms and ammunition in the region.
Authorities have assured the public that they are fully committed to ensuring the safety and security of the community. Stringent efforts will be made to prevent the misuse of such ammunition, as well as to identify and apprehend those responsible for its illicit distribution.
As the investigation unfolds, the Manipur Police appeal to the public for any information or leads that may assist in unraveling the mystery behind the recovered bullet shells. They encourage citizens to come forward with any relevant details that could contribute to the ongoing probe.
The seizure of two sackfuls of empty bullet shells in Imphal has sparked concerns within the community and highlighted the persistent challenge of illegal arms trafficking. The authorities remain determined to combat such activities and maintain peace and order in the region.