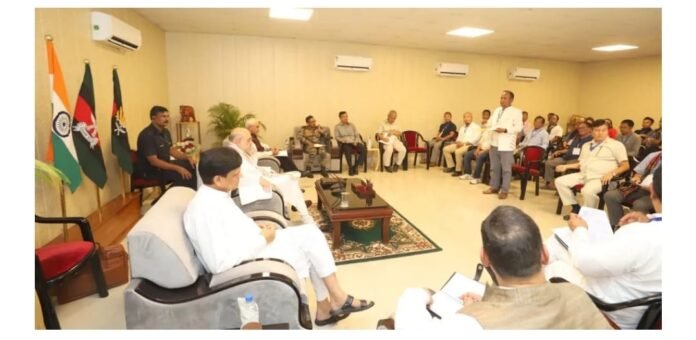 In a significant development, Union Home Minister Amit Shah has extended an assurance to the tribal community in the violence-affected state of Manipur, promising a political solution within the next 15 days. This announcement comes in response to the longstanding grievances and unrest prevailing in the region.
Amidst the recent wave of violence and tensions in Manipur, particularly in the Churachandpur district, Amit Shah has taken a proactive stance to address the concerns of the tribal population. The Minister's commitment to finding a political solution within a relatively short timeframe aims to restore peace, harmony, and stability to the region.
The tribal community, which has been grappling with persistent issues related to land rights, identity, and socio-political representation, has been eagerly awaiting a resolution. Amit Shah's assurance of a swift political solution is a ray of hope for the affected people, who have long demanded fair and inclusive representation in the decision-making processes of the state.
The Home Minister's pledge to expedite the process reflects the government's recognition of the urgency and significance of the situation in Manipur. By emphasizing the need for a political solution, Amit Shah acknowledges that sustainable peace can only be achieved by addressing the underlying grievances and providing a platform for open dialogue and negotiation.
While the specifics of the proposed political solution are yet to be disclosed, this proactive approach from the central government indicates a genuine commitment to resolve the deep-rooted issues in Manipur. The involvement of stakeholders from all sections of society, including the tribal community, local leaders, and government officials, will be crucial to ensure an inclusive and comprehensive solution.
It is imperative that all parties involved work towards fostering an environment of trust and understanding during the negotiation process. Open channels of communication, coupled with a willingness to engage in constructive dialogue, will pave the way for a sustainable resolution that benefits all sections of society.
In the coming days, it is expected that discussions and consultations will be initiated to lay the groundwork for the proposed political solution. As the 15-day timeline unfolds, the tribal community and the people of Manipur will closely monitor the progress and remain hopeful for a positive outcome that addresses their long-standing concerns.
The government's commitment to resolving the issues in Manipur within a specified timeframe is a step in the right direction, demonstrating a willingness to prioritize the welfare and aspirations of the affected communities. As the political solution takes shape, it is crucial for all stakeholders to foster an environment of peace, tolerance, and cooperation, which will lay the foundation for a prosperous and harmonious Manipur.