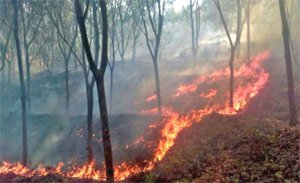 ead over 9/10 hectares of land in Sabroom subdivision. The flames, fueled by a strong gale, raged through the area, causing fear among residents of nearby Shibaprasad colony due to the presence of a gas godown within a hundred meters.
Fortunately, the combined efforts of the BSF, TSR, and Fire Brigade Jawans, along with the assistance of local residents, helped to bring the fire under control within three hours. This prevented the fire from spreading further and causing damage to nearby households and properties.
The incident serves as a reminder of the destructive potential of natural disasters and the importance of community cooperation in times of crisis. Despite the loss of the rubber garden, the prompt response of the authorities and the assistance of local residents helped to mitigate the impact of the disaster and prevent further damage.