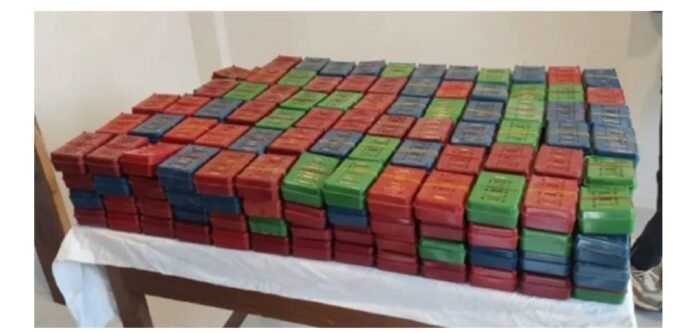 Shillong: In a significant operation, law enforcement authorities in the East Khasi Hills district of Meghalaya have successfully seized a substantial consignment of heroin with an estimated value of Rs 28 crore. The operation took place in the village of Mawryngkneng, marking a major blow to the illicit drug trade in the region.
Acting on credible intelligence, the authorities launched a well-coordinated operation to intercept the illegal narcotics consignment. The meticulous efforts of law enforcement agencies resulted in the successful seizure, thwarting the illicit activities of drug traffickers.
The seized heroin, valued at a staggering Rs 28 crore, highlights the magnitude of the illegal drug trade and its potential impact on society. The authorities have been relentless in their efforts to combat the drug menace and this seizure stands as a testament to their dedication and effectiveness.
The operation signifies a significant milestone in the ongoing battle against drug trafficking in Meghalaya. By disrupting the supply chain of narcotics, law enforcement agencies aim to curtail the influence of drug syndicates and protect the well-being of the local community.
The successful operation also underlines the importance of collaboration between various enforcement agencies and the local community. Such joint efforts play a crucial role in identifying and neutralizing drug trafficking networks, ultimately leading to a safer and drug-free environment.
The seized consignment will now serve as vital evidence in the ongoing investigation, with authorities working tirelessly to identify the individuals and networks involved in this illegal activity. The subsequent legal proceedings will ensure that those responsible face the full extent of the law.
The East Khasi Hills district administration and law enforcement agencies have reiterated their commitment to combating the drug trade and expressed their determination to continue such operations in the future. Their dedication to maintaining peace, security, and a drug-free society remains unwavering.
As this incident unfolds, it serves as a reminder of the persistent challenges posed by drug trafficking and the need for continued vigilance to protect communities from its devastating effects. The authorities' resolute actions reflect their determination to create a safer environment for all residents of Meghalaya.